Taking down the Christmas Tree can fill you with sadness as the twinkly lights are put away for another year. Yet it doesn't have to be like this. Your Christmas Tree can keep giving to you all year round.
This year on the 6th of January the traditional day for taking down your Christmas Tree. Gather round it and harvest some of its pines! You can create so many recipes from pesto to dressing for a Salmon, to vinegars to pickles. Nothing like getting creative in January. You can try our Christmas Tree Salt Rub and Christmas Tree Pesto to get your started.

6 million trees approx are sold in the UK every single year and so few of us eat them. We think it is a crying shame. So we are making a stand! We are going to be making a lip lickingly good curing rub in our membership the - Kitchen Table Revolution this week.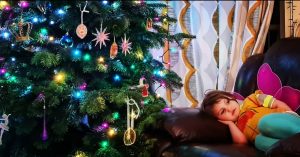 We are all very excited! Not in there yet? Don't worry we are sharing our Christmas Tree Salt Rub and Christmas Tree Pesto with your recipe with you. Though if you want to learn how to cure meat or mushrooms with your Christmas Tree or make a Blood Orange Negroni Marmalade or a Lemon and Thyme Chutney you may want to hot foot it over there and become a member today. Duncan and our experts will be teaching you how to make these life and more importantly holding you accountable so you actaully do it!
Now I hear you ask - what made me think about eating my Christmas Tree? Well there are so many trees you can eat from Silver Birch Tree leaves - have a look at these crisps Duncan and I made - so good to using the pine from a Douglous Fir to create a Green Fashioned. The Fir really complements the smokiness of the whisky! So I thought surely you must be able to eat your Christmas Tree!  

If you have Fir, Pine and Spruce you are in luck. We have a locally grown Christmas Nordmann! They have a lovely zesty flavour to it and work so well in things like pickles. You can use your pine like a herb to add to salt or to a rub or even to honey to infuse! As always there a dubious dobblegangers out there so make sure you make sure you check what tree you have before you use it as a cedar or cypress are poisonous! 

So take the plunge and try your Christmas tree - we all try and make ourselves feel better for the wastage by making a donation to a local hospice who collects them for us or thinking about getting one that can be replanted every year and dug up for us again. Eating your Christmas Tree is a huge step forward to reduce waste. If you have the right one of course! It's not going to reduce your carbon footprint but it will change your behaviour to how you see and view food. Which is one of the best ways to create change. 

We love the fact you can whip up a salt rub or infuse it as a syrup and you can drop it off on your neighbours or family members doorstep and bring a smile to them. It is the perfect gift. Not only that it will preserve your Christmas Tree to use in cooking all year and you will be reminded of wonderful memories as you smell the pine.

So what are you waiting for? Get cooking!

My Christmas Tree Salt Rub is the perfect blend of the Sea and Land. As a Wild Sea Swimmer I absolutely love it.

It is quick and simple too and makes you feel amazing! You can add your favourite flavours to them to get the balance you want. Make it simple first and see what tickles your taste buds. We love it with a little bit of chilli for that extra kick or kaffir leaves -  it balances so nicely with the citrus.

It is a really nice way to brighten up a neighbours or friends January - there are so many pines that it is easy to pop some round to them! It works really well with fish, or rubbed into a chicken skin or sprinkled on root veg with olive oil.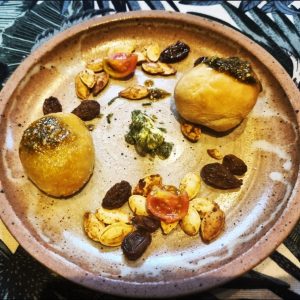 Imogen's Christmas Tree Salt Rub
This is the perfect blend of Land and Sea. I absolutely love it. It is quick and simple to make and you feel amazing afterwards! You can add your favourite flavours to get the balance you want.
1

Cup

Spruce Tips Make sure you don't have a poisonous Yew Tree - you should have a Fir, Pine or Spruce. We have a Nordmann!  

1

Cup

Sea Salt
Pop them in a blender and whiz them up.

Put over a large tray to dry

Pop them into a jar - they make great gifts.
Duncans Christmas Tree Pesto is so good drizzle over Pasta, on a Pizza with woodland mushrooms or served with Lamb.

An extra tip is to use the pine like you would rosemary. Simply used snipped springs of rinsed and dried pine in a roasting tin - in the same way you would use rosemary and place your lamb or fish on top!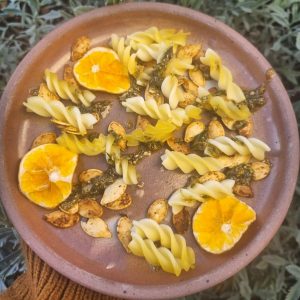 Duncan's Christmas Tree Pesto
Perfect Drizzled over Pasta, Served on a Pizza or with Lamb.
1

Cup

Spruce Tips

Dubious Dopplegangers: Make sure you don't have a poisonous Yew Tree - you should have a Fir, Pine or Spruce. We have a Nordmann!  

1

Cup

Olive Oil

1

Cup

of nuts or seeds

2-3

Cloves

of Garlic

1/4

Cup

Parmesan Cheese

1

pinch

salt

1

pinch

pepper

1

squeeze

lemon
Add the christmas tree tips, garlic your nuts or seeds, salt and pepper and whiz up

When smooth add in the oil

Add in the parmesan cheese and lemon zest and whiz up