During this morning's meeting, a bleary eyed Xanthe wandered into the kitchen, eager to see why on earth her parents were talking to their computer, rather than playing with her (a mystery indeed). Her eyes lit up as she spied treats on the table- a pack of custard creams.
"Can I have a biscuit?" she asked, her hand reaching up to the opened packet… 
It was like the world slowed to slow motion (and it wasn't just a bad Zoom connection). Imogen lunged forward to pull Xanthe away, and Duncan launched himself toward the biscuits, desperate to reach them before Xanthe's little hands closed around the packet. 
Duncan was first to the prize, whipping the packet of biscuits out from under Xanthe's grasping fingers, and threw them at the kitchen cupboards. The packet of custard creams lay, packet crumpled, surrounded by shards of broken biscuits and blood-like splatter of crumbs.
The threat was neutralized, Imogen and I were relieved, and Xanthe- well she was very confused, as you may also be. The truth of the situation is that Duncan had just saved his young child from the great white shark that lurks in our kitchen cupboards: Custard Creams.
I'm here to tell you about the latest scandal big-biscuit doesn't want you to know about: the hidden killer in your cupboards, the smoking gun in your shopping trolley, the poison apple hiding in your children's lunchboxes- the custard cream.
Why are they so dangerous? Are any biscuits safe? Well, let's find out. 
This particular biscuit has been around since 1908, and has slowly but surely become a cornerstone of British tea-time. The crunchy-creamy-crunchy sandwich is regarded as a national treasure by some, and as, well, a little boring by others. What nobody expects it to be, is a danger to our families.
Don't laugh, it's true. This icon of British biscuit tins has been ranked 'Britain's Deadliest Biscuit'. Everytime you nibble on or dunk one of these much loved treats, you're taking your life in your hands.
According to a 2009 survey, a staggering 25 million Brits have been injured in biscuit related incidents, with an average of 500 of these unsuspecting victims left in need of hospital treatment per year. 
A third of these adults were scalded by hot beverages whilst dipping a biscuit into a comforting cuppa- splashback from over enthusiastic dipping leaving lasting scars. 26% of people have reported choking on biscuits- as we can all imagine, getting a garibaldi lodged in your windpipe is no fun at all. 10% of these unfortunate snackers have suffered a dental casualty, dislodging fillings and cracking teeth on a seemingly innocent snack.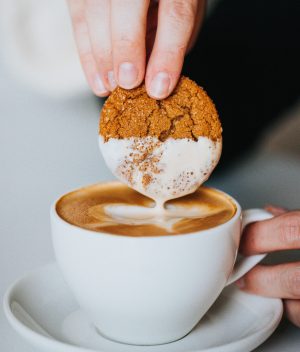 The remainder either 'dropped a biscuit on their foot (you can't make this up), fell off a chair reaching for a packet, poked themselves in the eye whilst snacking or were bitten whilst offering one to a pet or 'other wild animal'. 
There's one horror story that really 'takes the biscuit'. A dedicated snack lover spied a lone biscuit in a patch of wet concrete. With no regard for his own safety, he waded in to rescue the stranded biccie. But as he halted, raising the biscuit to his lips (after all, 5-second rule) he failed to notice the concrete hardening around his feet. I'm sure you can guess what happened next. 
Thankfully, to help prevent sticky situations like this one, Mindlab have conducted a thorough Biscuit Injury Threat Evaluation (B.I.T.E for short) to provide consumers with a comprehensive safety evaluation of a selection of popular biscuits.
The study 'tested the physical properties of 15 popular types of biscuits, along with aspects of their consumption such as dunkability and crumb dispersal.' A mathematician was then brought in, to correlate findings with a nationwide survey of over 1000 adults. Sounds pretty legit to me.
Jaffa Cake lovers will be glad to hear that it was ranked the safest of Britain's most popular biscuits (let's leave the cake/biscuit debate at the door) with a risk rating of 1.16. Digestives doubled that, coming in at 3.14. The custard cream was rated at a shocking 5.64. Chilling figures indeed. 
Is feeding your child a Custard Cream as bad as giving them a gun? Could your coffee morning end in a lawsuit? Should they be taken off our shelves? Who's to say. 
What we do know for sure, is that this morning Duncans quick thinking may have saved a life. Our message to you, dear reader, is to keep your biccies under lock and key, and to brush up on your first aid training before you invite your friends round for elevenses.
If you're a daredevil baker seeking your next thrill, or perhaps planning a devilishy Miss Marple style murder, then we have the recipe for you. Scroll down to find our deviously delicious Elderflower Custard Creams. Honestly, they're to die for…
We'll be making them live on our Facebook page  this week- tune in at 12 this Friday (25th of June) to cook along with Duncan and Imogen as they make a batch of their own. We'll be giving you a taste of the kind of weekly content we give our followers in the Kitchen Table Revolution.
For more (potentially less dangerous, but equally delicious) Elderflower recipes, pick up a copy of our new bestseller: Foraging Fairtytales, Elderflower Festival. It's bursting with seasonal delights, fascinating folklore and tips on harvesting and identifying your own. 
Disclaimer: bakers and biscuit eaters proceed at their own risk. Keep away from children.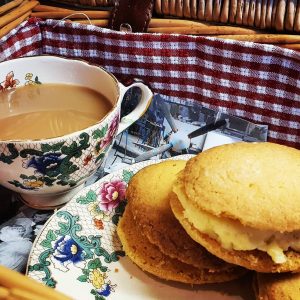 Custard Creams with an Elderflower Twist
Share your photos and tag your friends and family who will love this recipe! We love to send out little gifts so make sure you tag us at @bangersandballs.
For the Insides
50

g

Butter

100

g

Icing Sugar
Warm your oven up to 180C

Grease 2 baking trays with a knob of butter

Mix the butter and icing together in a large bowl until light and fluffy

Slowly add in the flour and custard powder bit by bit until the mixture forms a paste.

Divide into little balls and pop them on your baking tray.

Use the back of a spoon to flatten each ball - light touch (unless you are trying to do this with a toddler)

You can create your own designs on them with a fork!

Bake for 12 ish mins - you want them to be dry on top!

Leave them to cool - ideally on a rack.

Now to make the buttercream filling.

Mix the butter and icing sugar and spread the butter cream onto half the biscuits and then pop the the other half on top.
Get inventive and add in anything you like to the butter cream filling -  I know I will be making elderflower Custard Creams and Gorse Flower Custard Creams this year!