Tastes and smells are one of the most powerful tools for unlocking our memories. Perhaps that's why childhood sweets have such a special place in our hearts.
There's just something about the sweet treats of our youthful days that stick with us. The taste, the smell and the vibrant packaging have the spellbinding power to transport us back to those magical years.
I know it to be true- whilst working in corner shops I've seen many an adult emptying their purse and spending their last few coins on Jelly Snakes, eyes brimming with childish glee.
For me, the key to this feeling of nostalgia is the humble Parma Violet. Despite it's reputation as the Marmite of the sweet world, it's a sweet treat I couldn't go without.
Growing up in a health focussed family, sugar was rarely on the menu. You'd be far more likely to see me with dried apple rings or a box of raisins than a chocolate bar in my lunch box.
But on rare occasions, my mother would greet me at the school gate with a sweet treat- a tube of Parma Violets tucked away in the glove box.
I can still remember the feelings of excitement at finding them, and the flavour of the sweet floral flavours blooming on my tongue.
In her youth my mum would often take her pocket money down the hill to the post office, picking up a tube of Parma Violets. They would rarely last the walk home.
She passed on her sweet tooth to me, and in sharing the sweets passed this sense of nostalgia down through the generations.
As an adult, I have been as chuffed as a child in a sweetshop to discover that the distinctive violet flavour is beloved by mixologists too.
I first discovered this whilst celebrating my 22nd birthday at The Alchemist - a place that is equal parts slick upmarket cocktail bar and magical potion apothecary.
I treated myself to the Aviator - a violet infused cocktail, served in a monogrammed hip flask and poured over dry ice. I was mesmerised by the mist swirling up the delicate violet perfume, mimicking the blooming floral flavours of the cocktail itself.
I was delighted to find my favourite local cocktail bar also has a 'Parma Violet' on offer- Hendricks gin and violet liqueur, pored over ice cubes encasing perfect violet blooms and garnished with bright, fresh pansies.
Even now, the flavour envelops me like a memory, taking me back to the long drives home from school and the sweet treats squirreled away in my Mothers glove box.
Despite the theatre of the alchemist, and the gorgeous presentation at lemon twist, the post office tube of Parma Violets will always be my favourite.
I can't wait to see what Duncan dreams up for this week's seasonal recipe. I know that the distinct violet flavours will bring back these memories- a treat for the tastebuds and the soul.
We can't wait to bring this magic into your home! This week in the Foodie Revolution Duncan will be teaching us some old-as-time preservations perfect for doing with kids, so you can make some memories of your own.
Not in the Foodie Revolution? Don't worry, we've got a mouth-watering cocktail recipe just below.
What sweets bring up this feeling of nostalgia for you? Let us know in the comments.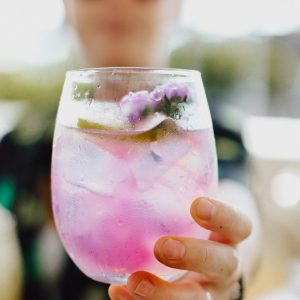 The Aviation
A delicious cocktail that perfectly captures the floral flavour of the Parma Violet, without overwhelming it with sweetness.
2

Ounces

Gin

1/2

Ounce

Lemon Juice

Freshly Squeezed

3/4

Ounce

Maraschino Liqueur

1/4

Ounce

Crème de Violette

Sugared Violets

To Garnish
Add all ingredients to a cocktail shaker filled with ice.

Strain into a cocktail glass.

Garnish with your violets and enjoy!