Celebrating VE Day with you in lockdown was an extremely special moment. Driving through those VE Day flag lined streets and feeling the swirl of the community as we delivered your vintage inspired hampers.

It is a memory that will always stay warm in our hearts. So put your feet up, warm the teapot, get the biscuits and let us take you down VE Day 75 memory lane and find out why the Sportsman played a crucial part in WW2 History.

Vintage VE Day Cook A Longs to Rally the Troops

We stood in our kitchens and cooked together as part of Faversham Virtual VE Day. We stood united as we made crumbly custard creams with an earl grey tantalizingly good filling.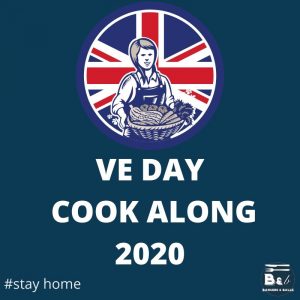 We made Scotch Eggs in the heart beat of our homes,talked about how eggs were scarce until 1953 and that in the 1930s 75% of pre-war Britain's food including carrots was imported by ship. 
We dreamt of nostalgic cloaked hot summer picnics that could be a family affair. . We  said "cheers'' with Gin and everything in the world felt that little bit better.

Celebrating 75 Years of VE Days - Bangers and Balls

We chauffeur drove our vintage hampers through flag dressed streets. Transporting us to another era as 1940s music floated through the air. We felt a real sense of community, pride and hope.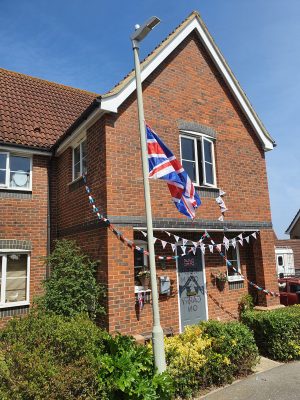 Three Vintage Minstry of Food Courses ride hidden inside full to the brim of hidden surprises. Ration Book wrapping keeps the Marmalade Scotch Eggs hidden in the hamper trenches. Away from enemy lips who want to try Jim's Butcher's magnificent local Whitstable Sausages. 
The pretty vintage China Cup hides the secret of the Boozy Cucumber Gin and Mint Salsa ready to go with your beautifully wrapped Ancient Ashmore Cheese from the Cheesmakers of Canterbury.  

Our Kentish British Beef and Faversham Spitfire Ale Balls with Bone Marrow and Shepherd Neame Gravy. Will have you licking your lips and been glad you are at home. Using Succulent Beef supplied by the Nose to Tail Butchers at the Goods Shed in Canterbury.
Paired with locally grown no dig organic vegetables from Jacks Farm and our own kitchen garden.  Freshly scrubbed of dirt and cooked, plated and ready to pop in the oven to warm.


The Sing Song Round the Piano Dessert was a vintage classic. A Raspberry Jam Roly Poly with Earl Grey Custard served in a VE Day hip flask, a Custard Cream Crumb topped with Electric Blue Borage Flowers.
Accompanied by handmade English Garden Tea from Chai Wallah in Margate. Get my song sheet right now. I am ready!

Then back to the table for a  VE Day 75 quiz. Now which one of our founders kicked a WW2 bomb all the way home along cobbled streets in Leigh on Sea after finding it out on the mud.  Kick back with a Pint of Bitter and see how many you can get right in our Flag Flying VE DAY Quiz at the end. 
We may not have all been able to dine together like we planned but it had a Vera Lyn "we'll meet again some sunny day" feel to it.

Your VE Day Love Notes

We loved your lockdown cards and it made our heart soar when it said "Best night of 2020. We got dressed up and had dinner with friends. It was so much fun unwrapping everything. The flavours were punchy and we felt part of something. Unlike any takeaway ever before."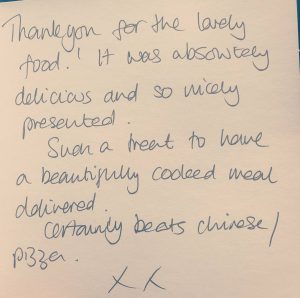 As with everything we do we love being able to talk about what is important and share our favourite recipes with you. Recipes are not meant to be locked away secret in a draw. They are alive and should be shared and adapted and passed on over and over again.

VE Day Discussion  "Dig for Victory"

The hugely successful propaganda campaign that encouraged civilians to grow their own in order to reduce Britain's reliance on imports.In the 1930s
75% of pre-war Britain's food was imported by ship and the German U-boat blockade threatened the home front with starvation.
Today we important 80% of our food including basics like carrots.The campaign's tagline "Spades not ships!" encouraged citizens to start planting on all available land.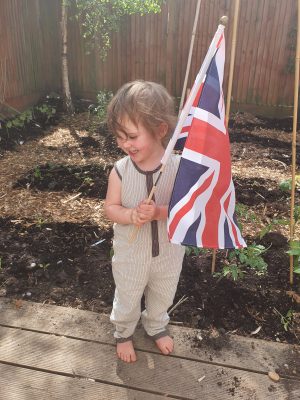 By 1942 half the civilian population was part of the nation's "Garden Front", and ten thousand square miles of land had been "brought under the plough".School playing fields, public gardens and factory courtyards were all transformed into allotments.
The moat at the Tower of London was given over to vegetable patches, and even the Royal Family sacrificed their rose beds for growing onions.Cartoon characters Captain Carrot and Potato Pete led the campaign with their own songs and recipe books.
Every Sunday an audience of 3.5 million tuned in to the Home Service to listen to Britain's first celebrity gardener, Cecil Henry Middleton, give his gardening tips.
According to the Royal Horticultural Society there were nearly 1.4 million allotments in Britain by the end of the war, which produced 1.3m tonnes of produce.
The government estimated that around 6,000 pigs were kept in gardens and back yards by 1945. Along with state investment in failing farms, the campaign led to the UK halving its reliance on food imports

Do you wish you could recreate the VE DAy 75 Celebration in your Home. Here are some of favorite bits.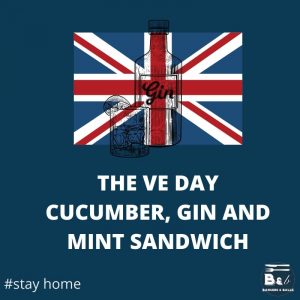 VE Day Cucumber, Gin and Mint Chutney Sandwich
Cucumber sandwiches are typically English and seen as a part of any good English picnic. And well who doesn't love Gin!I set Duncan the task of reimagining one of my favourite drinks - a cucumber and mint gin and he has come up trumps!
Fresh Crusty Bread

Fresh Cucumber

It was a little early for the season but we have made an exception for VE Day

Handful

Mint Leaves

Inch

Ginger

2

Garlic Cloves

A Hanful of Wild Garlic

4

Green Chillies

Change for you - Duncan likes a quick

1

tsp

Sugar

1

tsp

Cumin Seeds

1

tsp

Water

1

tsp

Gin

1

tbsp

Lemon Juice

Dash

Salt and Pepper

To taste we used Sea Salt and Cracked Pepper
Boozy Gin and Mint Chutney
Dice all it and and mix it in a bowl or pop in a blender if you want to make a paste.
VE Day Vintage Marmalade Scotch Eggs
Eggs were scarce in England until 1953 so these would have been a huge treat. They still feel like one every time we make them. There is joy that you just can't shake when you eat them.
5

Eggs

4

Marmalade Sausages

Or any you like

Spices and Herbs to Flavour

Try what you think will work in a ball first. Do you like it?

1

Slices

Bread

125

grams

Plain Flour

Oil to fry
Best served on a plate wrapped in a recipe and tied up with string. People really love the feeling of unwrapping something you have made and hidden just for them.
VE Day Vintage Custard Creams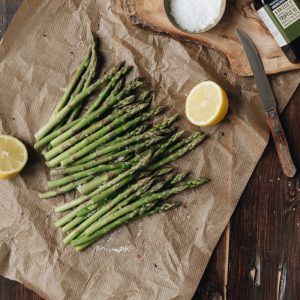 VE Day Crown Asparagus Pesto.
Asparagus is so delicious and really doesn't enter into the spotlight for such a short season. I want to eat it every single way I can in the kitchen. As do you - this has proved to be one of our most popular pestos ever.
10 - 20

Asparagus Spears

depending on size
1/4

Cup

Nuts

I used Hazelnuts as they were in my cupboard

1

large

Garlic Clove

Or hadful of Wild Garlic

Lemon Zest

2-3

Glugs

Oive Oil

Salt and Pepper to Taste

We used Sea Salt and Cracked Pepper

Herbs

I threw in some fresh Basil Leaves and Thyme. Don't be afraid to experiment and really make it your own!
Pop the asparagus in boiling water for 3 -4 mins

Run under cold water or place on ice to stop it cooking

Roughly chop the asparagus

Pop in a food blender to whiz up and add in you garlic clove/wild garlic and nuts

Add lemon juice, lemon zest and blitz

Add olive oil to make a pesto consistency
The VE DAY Big #Stayathome Quiz
We want to keep you jolly entertained as we bunker deep into Lockdown. So feel like you are an undercover Spy and see if you could pass our Bangers and Balls VE Day Quiz. To decode the secrets send us your answers written in lemon juice or if you want to be 2020 about it email us at info@bangersandballs. We will say "Allo Allo Allo"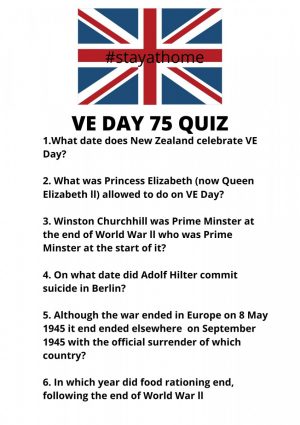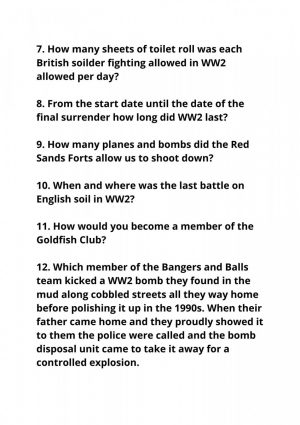 If you want to know all the answers tag us in your answers so far and we will reveal the secrets.
As a tease we will tell you The Battle of Graveny Marsh, took place on 27,1940 between a crew of a downed German Bomber and a company of British soliders who were holed up in the Sportsman pub
. Members of the London Irish Rifiles were billited in Seasalter when the stricken Juken 88 plance came down on Graveny Marsh. The soilders expected the four strong Luftwaffe crew to give themselves without a fight.
They were wrong. The Germans opened fire with a machine gun.
They wanted to protect and destroy the plane. The J-88 was the newest version in Luftwaffes armoury and had been flying for only two weeks.
This was a major coup for the British. The crew were marched under escort to the Sportmans Inn and given some beer before been taken away to a Prisionor of War Camp.