The last Sunday before advent which falls on the 20th of November this year marks a festive tradition that's almost as old as the big man in red. Generations of pudding-hungry Britons have been celebrating this event for centuries and for us, it's a staple of the festive season that's almost as important as the big day itself. 
In anticipation of this years Stir It Up Sunday Workshop using Guest Chef Arthur Kane Christmas Pudding recipe we're taking a look at the origins of the humble Christmas Pud, and exploring the roots of the Stir it Up Sunday Tradition. 
The History of the Christmas Pudding: From Beef Porridge to Puritans
The Grandmother of the Christmas pudding was first recorded way back in the 1300s- a soupy porridge known as 'frumenty'. This dish was far from the dense, sweet pudding we know and love today- it was a mix of beef, mutton, spices, wine and dried fruit. This "unique" dish was the last meat or wine many would consume before their advent fast. I don't know about you, but it sounds "interesting" enough to put me off my food for a few days too!
By the late 1500's, frumenty had evolved into something a little more traditionally palatable- The Plum Pudding. Through the addition of breadcrumbs, eggs, and spirits the porridge changed to become something more representative of the puddings we enjoy today.
Oliver Cromwell is well known to have been a bit of a misery-guts, and surprise surprise, when he rose to power in 1647 he decided this boozy festive treat no longer deserved a place on the menu. He even went as far as banning Christmas altogether, after deciding the celebrations were far too lavish and joyful to be considered Christian- however, I can't imagine Jesus was too happy about him cancelling his Birthday Party!
King George I bought back this icon of Christmas in 1714, popularising it as a staple of Christmas tables the nation over. By Victorian times, the Christmas Pudding we know and love had a place in almost every home.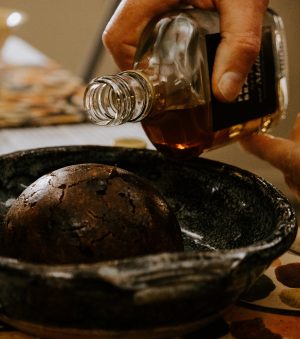 A Dessert with Hidden Depths
The Christmas Pudding is a desert with hidden depths- in both flavour and meaning.
Traditionally, a Christmas Pudding has 13 ingredients: a rich and luxurious mix of dried fruits, spirits and spices. These ingredients are said to represent Jesus and his 12 Apostles. Fortunately, the ingredients aren't individually prescribed- I doubt anyone would like to be a wrinkly raisin! There's even meaning in the presentation- the pyrotechnic display provided by flaming brandy is said to represent the burning passion of Christ.
Whatever your religion, if any at all, there's something unifying in coming together to share a slice of this Christmas Icon. There's undoubtedly something awe-inspiring about a flaming dessert. It seems to cast a spell of wonderment over a table, and a slice of the booze-soaked pudding is sure to inspire merriment!
Stir it Up Sunday
It would seem that the modern Christmas pudding tradition is queuing up for the chance to buy one of Heston Blumenthal's limited edition Waitrose puddings. We can't deny that there's something exciting about being part of the buzz, but we're just not sure that that's what Christmas is really about.
Year on year, we choose to skip the festive fads and partake in Stir it Up Sunday- an age-old tradition that embodies the true spirit of Christmas.
Stir it Up Sunday is a 400-year-old Christmas Tradition that originated in Victorian times, On the last Sunday before Advent, Families would come together to start their festive period by making their Christmas pudding.
Each maker would take a turn at stirring the bowl and make a wish for the year going forward. The pudding is stirred from east to west in honour of the wise men, who travelled from the east to the west to visit the baby Jesus- those of you hoping to celebrate at home might need a compass!
Over the Christmas Countdown, the pudding would mature and the flavours would meld beautifully. It's common for people to feed their puddings- adding more and more alcohol until the dish is truly sozzled.
When the pudding is finally sliced and enjoyed, it tastes all the better for the time and care spent in making it. It brings back the memories of time spent and joy shared- bringing a truly heart-warming dose of Christmas cheer to a festive dinner (and it's not just the brandy!)
Treasured Traditions
For us, traditions, like Stir it Up Sunday, are what keep the magic of Christmas alive. It's a chance to start the festive season together as a family by celebrating the true values of the season: togetherness, tradition and family.
We value the reminder to press pause on our busy lives and come together with our community in the Kitchen Table Revolution to make something truly delicious. We'll be led through making our own by guest chef Arthur Kane- a culinary wizard with a fantastic sense of humour.
For Imogen, this tradition spans back generations. She would travel home from Uni to be with her family while they made the pudding. It just shows how valuable and unifying these traditions can be.
" I can't wait! We are making it online with our Kitchen Revolution members. A few friends are coming to do it in person too. I always remember a full kitchen of family and my aunties all having a tipple as we stirred it. With Mama blaring out the Irish country-western as she would waltz and jive around the kitchen. It is like a flood of happy memories hit. So excited to do it this weekend and I hope my children are filled with the same nostalgia in years to come! "
This Christmas, Start Traditions That Last a Lifetime
We cherish the memories we make with our revolutionaries each year.
The biggest thank you to Arthur Kane for letting us use his delicious recipe for Stir it Up Sunday to make our most delicious Christmas Puddings yet. We honestly can't thank you enough!
It was an absolute joy to make his Christmas treat with the members of our Revolution. There's something so magical about starting the festive season as a community. It was a delight to see everyone concentrating, smiling and making your Christmas Puddings ready for the big day.
With our upcoming 12 Days of Christmas Festival and 2-4-1 Green Friday Deal, there's never been a better time to join The Kitchen Table Revolution. Take a look here to find out more about becoming a member of our inspiring community.