I've loved Turkish Delight ever since reading Narnia as a child. It sounded almost too good to be true, and tasted even better.
Inspired by the magical flavours of Elderflower, I decided to reclaim this sweet from the clutches of the wicked Ice Queen and create my own. You'll find the recipe below- it's almost too good to be true! This Elderflower Turkish Delight is the perfect way to capture the intoxicatingly delicious flavour of Elderflower all year round. 
I was intrigued by C.S. Lewis' description of Turkish Delight. A sweet so delicious you'd sell your family down the river-I knew I had to try it. Now, I won't say that I was disappointed when I did, but I was definitely confused. Indeed, each piece was mouth wateringly delicious- I was amazed by the melt-in-the-mouth texture and delicate sweet, floral flavour. But would I betray my family for it? Definitely not. So why would Edmund?
I kept coming back to this question whilst making my last batch of Turkish Delight. The mind has a lot of time to wander when you're stirring a vat of boiling sugar.
I've taken a deep dive into the history books to try and understand where Edmund was coming from. Was he a lost and hungry child whose sweet tooth got the better of him, or was he just a bad egg? Let's take a look.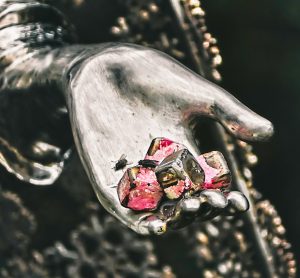 The History of Turkish Delight
Turkish Delight (or Lokum to the Turkish and Greeks) is one of the oldest sweets in the world. Dating back to the Ottoman empire, it has long been a staple at the most illustrious tables- being favoured by royalty, military legends and celebrities alike.  
Since being introduced to the west, it's been enjoyed by some incredibly famous faces. Pablo Picasso would eat it daily to 'aid his concentration' (that's one way to justify a sugar habit!).  It was also favoured by both Winston Churchill and Napoleon. I maintain that despite the fame of it's fans, Turkish Delight is still best known to many for its place in Narnia.
Through the Wardrobe
I first discovered my love of the chronicles of Narnia whilst staying at my grandparents house. I would stay in my mum's old bedroom, which still held the echoes of her childhood. A few teddies dotted here and there, faded 80s board games and a bookshelf stuffed with well loved, dog eared books were left to entertain me or my cousins if we ever came to stay.
It was on those bookshelves I found my Mum's old copies of C.S. Lewis's 'Chronicles of Narnia', and it was love at first page. My Dad, having seen me pouring over the pages, treated me to a trip to the cinema when the films first came out. Somewhere in the recess of the family photo album, there is a photo of me beaming next to a cardboard cutout of Aslan the lion- the happy face of a child who had most likely just stuffed her face with caramel popcorn.
As much as I loved the books, and the film series, there was one thing that always puzzled me. Why on earth would Edmund betray his family for a box of Turkish Delight? 
Granted, it is delicious. As C.S. Lewis Describes: ''Each piece was sweet and light to the very centre and Edmund had never tasted anything more delicious." The sweet, gooey floral flavours, the melt in your mouth icing sugar- it still stands as one of my absolute favourites. 
I always thought it looked like treasure, wrapped carefully in tissue paper and presented in a neat little box. As a child it was one of the few sweets I had the self restraint to exercise control when eating, simply because it felt so special- I could hardly bear to eat it (but very much enjoyed it when I did).
But would I have betrayed my family for it? Probably not. Would it have tempted me into a strange woman's sleigh? I really don't think so, after all- stranger danger.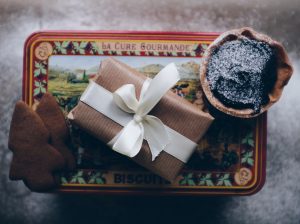 Rationing
But thinking about the context of Edmunds great betrayal, it makes a little more sense. Edmund was evacuated from his home in London during WWII, at a time when rationing of food and drink was strict. People were limited to as little as one egg and four slices of ham per week. Sweet treats just weren't as available. 
When it came to confectionery, rations were tight. Adults were limited to as little as 227g per month- that's less than two bars of Cadbury's Dairy Milk. Children were allowed even less, so you can imagine Edmund's delight at pounds of deliciously gooey sweetness.
This rationing started in 1940 and went on for 13 years, with sweets only becoming derationed in February 1953, almost a decade after the war had ended. As you can imagine, the celebration was huge!
Children emptied out their piggy banks and rushed out to the sweet shops, coming home with full pockets, sticky faces and big smiles. Surprisingly, the most popular choices were toffee apples, nougat and liquorice strips- childrens tastes have changed a lot in the last 70 years!
Adults indulged in the luxury of unlimited sweets, business queuing after work to take home 2lb boxes for their families. Sweet factories threw open their doors and handed out freebies a-plenty.
Looking at the sugar frenzy seen in Britain when rations finally ended, it's a little easier to understand Edmunds Overwhelm at the sudden appearance of endless supplies of turkish delight. Perhaps the sugar rush disabled his cognitive function, or the snow queen had laced them with magic - I suppose we'll never know.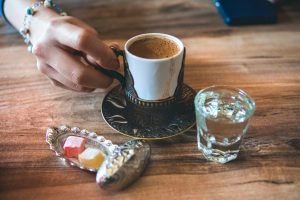 If all this sweet talk has got you mouth watering, we have the perfect recipe for you: Elderflower Turkish Delight. Forget the Ice Queen, this one's flavoured by the queen of summer- the Elderflower. Take a look below for the recipe. Best of all, it's so easy to adapt! Try switching up the Elderflower syrup for another floral water, syrup or cordial.
Fancy some more elderflower sweet treats? Pick up a copy of our new bestseller: Elderflower Festival. It's jam packed with unbelievably delicious elderflower recipes- from Elderflower Fizz to Elderflower Crab Bisque.
For more mouth-watering recipes, fascinating blogs and a weekly food investigation, sign up to our mailing list. You'll also get exclusive early access to our incredible events (we've got one coming up this summer- take a look before it sells out!).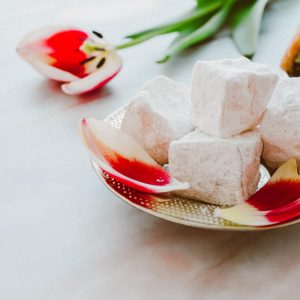 Elderflower Turkish Delight
Top tip: This is definitely a recipe for two pairs of hands! That was a lesson I learnt the hard way.
This recipe is a sticky one! So to start, grease an oven dish with a flavourless oil (I used vegetable) and line with baking paper.

Grab a large, heavy bottomed pan and mix together your first three ingredients: your sugar, lemon juice and 180ml of your water.

Bring this mix up to boil over a medium-low heat, and keep it rolling until your sugar thermometer reaches 120 Celsius or 250 Fahrenheit. You don't need to stir one the sugar's dissolved, but be sure to scrape down any crystals that form on the sides.

Whilst this mixture heats, combine your cornstarch, cream of tartar and remaining water in a separate pan. Be sure to whisk thoroughly and continuously to avoid lumps! These would form hard lumps in your sweets, so should be avoided at all costs.

Place this mix over a medium heat and bring to a boil, whisking constantly. The mixture will gradually thicken. Now would be a good time to bring in your second pair of hands!

Once the syrup has reached 120C, remove it from the heat. Gradually combine it with your cornstarch mix- adding a little at a time and- you guessed it- whisking continuously.

Once fully incorporated, reduce the heat to low and leave to simmer. You (and your helper) can rest your well whisked arms, as at this point it only needs whisking every 6- 10 minutes to avoid the sugar caramelizing on the bottom of the pan.

Leave over the heat for up to an hour, stirring every 6-10 minutes to ensure the bottom does not burn. Your mixture will become golden and transparent, and will reduce in volume.

What you're waiting to judge here is consistency. To test this, dip a little on the end of the spoon into a glass of ice water. Once cooled, give the mix a taste test- has it reached the chewy yet soft consistency of your favourite Turkish delight? If so, it's time to add your Elderflower! If not, leave to simmer a little longer.

It's Elderflower Time! Stir in your cordial to taste- using the same ice-water technique to judge the flavour. Keep an eye on the texture too- adding liquids may make your sweet a little too soft. If so, keep over a low simmer for a short while longer.

When you're happy with your mix, pour it into your lined baking tray. Use a spatula to even it out.

Once cooled, dust a clean surface with your cornstarch/icing sugar. Turn out the cooled Turkish delights and slice into cubes. Ensure all sides are well dusted and enjoy!
Be careful when working with hot sugar, as it can cause serious burns.