We get it- 2021's been a tough one and no one's been at their best. Maybe you've given an inconsiderate motorist an earful or farted and blamed the dog. Nobody's perfect.
Now we're not saying you're on the bad list, but it never hurts to bump your way up to the top. Santa's gift to goodness ratio is pretty clear.
To help you climb up the nice list (or quickly escape finding a lump of coal in your stocking) we've put together our top tips for seasonal nice-ness.
Nice List Tip #1: Get Creative
So although Santa might not be wandering around handing out rosettes for the best art projects or holding auditions for 'the elf factor', he is no doubt impressed by a little creativity.
Handmade gifts go that little bit further to communicate the love and care you have for a person- your kids latest family portrait might not make it into the V&A, but it takes pride of place on the fridge because you appreciate the time and care that went into it.
Make this year the year you stop falling back on socks as a stocking stuffer and make meaningful, handmade gifts to give your friends and family.
We'll be hosting a festive masterclass in Christmas creativity (both culinary and crafty) in the 12 day countdown to Christmas. Our community will be coming together to create meaningful, handmade gifts: from handmade cranberry hot sauce to give a kick to Christmas dinner to brandy butter pouring sauce so deviously delicious you'll want to drink it straight from the bottle! Click here to book your place today!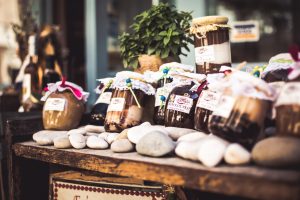 Nice List Tip #2: Be a good samaritan
There are plenty of old-timey ideals that we're very glad are confined to the past. As a woman I'm very glad to have the right to work and vote, and thank the lord there are no more repressed victorian gentlemen fainting at the sight of uncovered piano legs. But being a good Samaritan is an old-style ideal that never goes out of style- especially if your name is S. Claus.
The parable of the good Samaritan is one you may well be familiar with. In a time of great religious division between the Samaritans and the Jews, a Samaritan rescues and nurses a man of opposing faith he finds near beaten to death on the side of the road.
What this teaches us is to show kindness, empathy and compassion to those around us- even those with whom we may not agree or share common ground. To be proactive in caring for those around us- even those who do not ask for help. Is there anyone in your life who might need a helping hand or a listening ear, but might feel unable to ask?
Whether Christian or not, the lessons found in this parable provide a reminder to all to act with kindness in our day to day lives- even at times when it won't result in gifts from a certain man in red.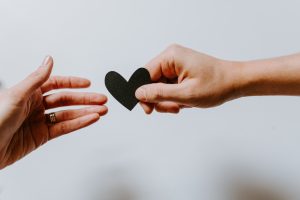 Nice List Tip #3: Sustainability is always in style
We're all aware that Christmas HQ is up at the North Pole. For some reason, it's a bit warmer than usual- Santa's dropped the big red jacket for a penguin-print Hawaiian shirt. The E.L.F. science team have been taking a look at the facts and it seems that the unseasonably warm weather is to do with something called global warming.
Perhaps the best way to charm Mr Claus is to play your part in making sure his winter wonderland doesn't melt away! Whether it's buying sustainable presents or enjoying more seasonal food, there are plenty of ways to boost your nice-list ranking by putting the planet first.
Sign up to our mailing list to have Duncan's upcoming blog on the planetary perils of Christmas and how best to avoid them delivered straight to your inbox.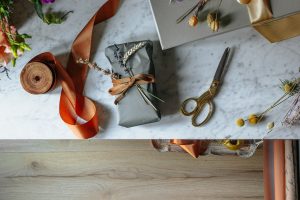 Nice List Tip #4: Don't be a waster
Each year at Christmas, the UK wastes around 270,000 tonnes of food- as heavy as 550,000 polar bears or 30 Eiffel towers. It's a seasonal scandal that would make even the frostiest snowman's blood boil and could send you tumbling straight down to the naughty list.
You might not have a herd of hungry reindeer to feed your scraps, but fear not! There are plenty of culinary and creative ways to make the most of your food scraps-why not turn the potato peels from your roasties into crisps to snack on while you play a boxing day board game? There's so much you can do with the odds and ends of your festive fruit and veg- so much so we've written a blog on it! Take a look here to find out more.
But it's not just our scraps that are the problem. When it comes to Christmas dinners our trolleys are so often bigger than our stomachs. Each year in the UK we waste the equivalent of 2 million Turkeys and 5 million Christmas puddings. It's a Christmas crisis.
Santa sent us an assignment straight from the north pole, and our resident Chef Duncan Tinkler is busy in the kitchen of his cosy cottage creating Christmas recipes to help families the world over make the most of their Christmas leftovers- from Christmas Pudding Trifle to tasty Turkey Curry. Sign up to our newsletter to have these recipes (and many more) delivered straight to your inbox.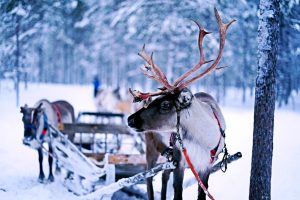 Nice List Tip #5: Shop Small
At this point, I'm sure we're all a little tired of sending billionaires into space.
This Christmas, rather than funnelling your hard-earned pounds into the pocket of an already flush mega bajillionaire, use your purse to support the (doubtless plenty of) small businesses in your area.
Why not grab a glass of mulled wine at a craft market and check out some hand-thrown ceramics (like these from our friend juliettemakes).
Or buy an experience membership from a sustainable business like ours! Our Kitchen Table Revolution is the perfect gift for It's the perfect pocket companion for the family that wants to spend more time outside, the would-be chef with a full basket, and the woodland wanderer who sometimes gets a bit peckish. It's the gift that really keeps on giving, and will help your loved ones continue to make magical memories once the fanfare of festivities is long gone. Take a look here to join our exclusive community.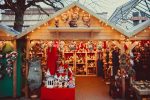 Nice List Tip #6: Get in the festive spirit!
Nothing gets your name up the good list like getting in the festive spirit- Scrooge is known as the antichrist(mas) for a reason. So to spare your stocking from coal-stains this Christmas, be sure to get into the festive spirit.
For anyone struggling to find magic in the season, we prescribe two glasses of mulled wine and a rosary of silent nights. You'll be feeling the warm glow of Christmas in no time!
Join us at the 12 Days of Christmas Festival
Don't tell Santa, but we've hacked the S. Claus system and discovered a sure-fire way to rocket your family up the rankings: our 12 days of Christmas Festival. From the 13th of December right up to Christmas eve, we'll be working with our community to create meaningful handmade gifts to gift to your loved ones this Christmas. It ticks all the boxes- from Christmas creativity to sustainable gifting. It's sure to fill your home with festive cheer too!
From as little as half an hour per day, we'll be making tasty treats (like our signature boxing day chutney) to festive crafts (including wreath making). To book your ticket today, take a look here. We'll see you in there!