Strutting its leaves on the catwalk this week is the Luscious Leek. Hippocrates thought they could cure nosebleeds and Moorfields Eye Hospital say they are good for your eyesight.
Read on to find out who thought they could improve your singing voice and to try Duncans Poached Leeks with Dragoncello Sauce Recipe. Something special for the weekend!
Leeks are easy-to-grow vegetables, standing proud through the harshest winter until you're ready to enjoy them. They come from the same family as onion, garlic and chives and (our particular favourite) Wild Garlic.
Ok, so they are easy to grow - but how do they taste?
Tantalizing to the taste buds the French often call them 'Poor man's asparagus. The leek has a mild flavour and a subtle onion-like taste. They taste great in soups, salads and curries.
When you cook them they should be tender and silky not mushy or stringy.
Duncan's Luscious Facts about Leeks
Hippocrates the ancient Greek physician and 'father of medicine' prescribed the leek as a cure for nosebleeds.
Romans considered the leek a superior vegetable and Emperor Nero got through so many he gained the nickname Porophagus (leek eater); he is reported to have thought that eating leeks would improve his singing voice
The leek is worn in the caps of today's Welsh soldiers every year on St David's Day. On the same day, in the prestigious Welsh Guards Regiment, a large raw leek has to be eaten by the youngest recruits to the cheers of comrades.
Leeks are an excellent source of vitamin A, which aids vision and supports the immune system, and bone-building vitamin K and manganese. They also contain vitamin B6, which appears to reduce homocysteine in the blood; elevated levels of this amino acid are associated with a greater risk of heart disease, blood clots and strokes.
Duncan was inspired by his road trip to Spain to put a Spanish Twist on his Poached Leeks by adding in Moscatel vinegar. We try to use things that most of you have in your cupboards but we would really recommend buying this as it dances circles around most domestic balsamic vinegars. It really elevates the most modest of vinaigrettes by giving it a unique purity of flavour.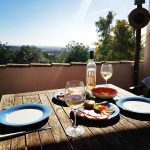 The Dragoncello Sauce is like a Bearnaise Sauce only better! The Anchovies, capers and good red wine vinegar add essential saltiness, depth and complexity. Ours were from the Cantabrian Sea which is off the coast of Northern Spain and were delicious.
The Bay of Biscay fishery is a sustainable choice. The Cantabrian Sea (Bay of Biscay) purse seine anchovy fishery is certified by the Marine Stewardship Council (MSC) as sustainable. Anchovy are a species with a low vulnerability and high resilience and as such can sustain high levels of fishing pressure.
Have we got you licking your lips for leeks yet?
I know I'm getting hungry!
If you're as amazed by this simple, delicious leek recipe then sign up to our mailing list. We'll send you a seasonal recipe each week, to help you make the most of the incredible veg each season has to offer.
Not the digital type? We've got options for all! Pick up a copy of our latest book, Wild Garlic Festival (launching March 17th 2022). Between the covers, you'll find 23 delicious seasonal recipes, all infused with the wonderful flavour of Wild Garlic.You'll also recieve an easy to follow guide on how to forage this seasonal gem: from where you'll find it to what lookalikes you should avoid. Get your copy here!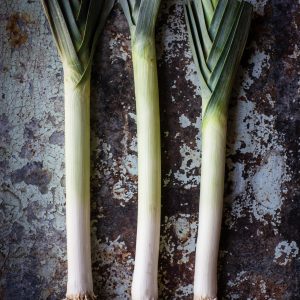 Duncans Dragoncello Luscious Leeks
Poached Leeks
3

Large Leeks

1

Garlic Bulb

1

Handful

Bay Leaves

125

ml

White Wine

25

ml

Moscatel Vinegar
Poached Leeks
Pop the leeks, garlic and bay in a snug dish.

Pour over the wine and vinegar then add enough water to cover.

Season the cover and cook at 160C for 30 minutes.

Leave to cool in the liquor.
Dragoncello Sauce
Soak your bread in the red wine vinegar.

Use the large holes of your grater to roughly grate your hard boiled eggs.

Flip the grater and grate he garlic on the fine side.

Add them to a bowl and mix with the tarragon and lemon.

Pour any vinegar that hasn't soakd into the bread into the bowl, then pour olive oil over to cover.
To Serve
Slicethe leeks in half, lengthways.

Pour a little of the liquor over the leeks, then finish each with a spoonful of the Dragoncello.
Want more lip-smaking seasonal recipes delivered straight to your inbox? Sign up to our mailing list here.