When it comes to hedgerow foraging, one of our favorite seasonal gems is the humble hazelnut. It's deliciously nutty and fantastically versatile- a true treat. This week's recipe centers around this hedgerow hero, pairing it with silky smooth chocolate- a true match made in heaven.
For those of you yet to buy our latest bestseller: Hedgerow Festival, we thought we'd share this excerpt to get your tastebuds tingling for the deliciousness that waits between the covers. Naughty Not-ella Choco Hazelnut Spread is one of our favorite hazelnut recipes (although the competition is pretty stiff!) and it's just too good not to share. It tastes better than the 'real deal' and contains far fewer nasties (more on this later).
But before we tuck into a jar of this lip-smackingly luxurious spread, let's take a look at how Nutella was created, and find out why it's worth making your own.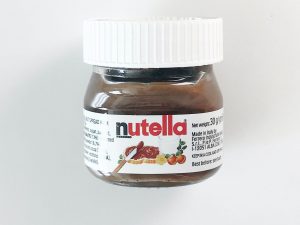 The History of Nutella
Nutella was created by Pietro Ferrero, an Italian veteran with a passion for patisserie. Following his exit from the Armed Forces, Pietro followed his passion for cuisine across the globe. He first honed his talent in Italian bakeries, before moving his family to East Africa. Here Pietro tried (and unfortunately failed) to launch a biscuit business, supplying authentic Italian treats to troops dispatched by Mussolini. Following this failed venture, Pierro finally settled in the patchwork of quaint cobbled streets surrounded and vine striped hills of North-Western Italy with his wife and son and opened a bakery.
Pietro's eventual success was inspired by unexpected circumstances. As they say, 'necessity is the mother of invention', and nowhere could this truth be better illustrated than in the origins of Nutella. Surprisingly, this lip-smackingly luxurious treat was born of hard times: WWII.
When war erupted in Europe, chocolate became increasingly hard to come by. Cocoa supplies were thin on the ground and challenges in transportation meant importing large quantities of chocolate simply wasn't an option. With the stress of constantly impending doom, the country was in desperate need of a sweet treat.
Pietro turned his culinary creativity to creating something that would fill the space left by the unfortunate shortage. He stretched his measly supply of cocoa powder with local hazelnuts, molasses and coconut butter to create a solid chocolate treat called Giandujot. This was a huge success, and reportedly sold faster than he could make it! Pietro had struck gold with his magical hazelnut chocolate combination, and his son, Michelle ensured that Giandujot was soon available in spreadable form: Nutella (then known as Supercrema).
Why is Nutella a No-go?
Unfortunately, this tasty tale leads to today's less charming truth. Over time, the recipe has been altered and the once handmade chocolate spread now leaves much to be desired. As you can see in the image below, what looks like a chocolate-rich spread is anything but. With the cocoa powder and hazelnut content coming in at a measly 7.4% and 13% respectively, you'd be better off naming it after its two dominant ingredients: refined sugar and palm oil. I don't know about you, but that doesn't sound tasty to me.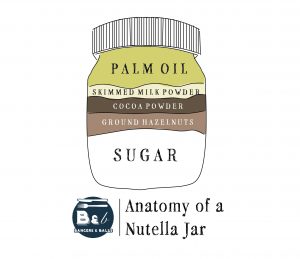 But chocolate spread lovers, fear not. We've crafted a recipe to fill the Nutella-shaped hole in your heart (and stomach) made from the finest foraged ingredients. It's a must-make seasonal sensation that you can whip up in mere minutes. It contains far less sugar, is joyfully palm oil free and vegan friendly. Best of all, you probably already have the ingredients in your kitchen cupboard.
So whip up a jar and go crazy- slather it on toast, treat the kids to crepes, or secret a spoonful right out of the jar. Your tastebuds will thank you!
The recipe shared below is an excerpt from our latest best seller: Hedgerow Festival. It's jam-packed with sensationally seasonal recipes just like this one and filled with all the information you could need to forage the ingredients yourself. But it's not just food for the mouth, it's food for the mind- we've dug through the archives and collated the finest folklore on all of our favourite foraged treats. Perfect for reading with a slice of Not-ella on toast! Pick up a copy here, and bring the best of the season to your Kitchen Table.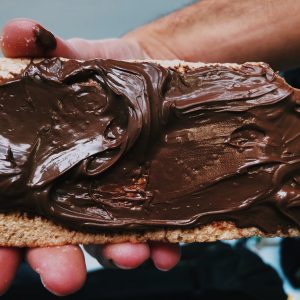 Naughty Not-ella Choco Hazelnut Spread
This devilishy declicious spread is almost too good to be true. It's easy to make with the kids and is a guaranteed family favourite.
If you prefer your not-ella with a little crunch, hold back some hazelnuts and whizz them up into little chunks, before stirring through the finished spread.
Break your chocolate into cubes, and place in a heatproof bowl. Pour a few centimetres of water into a saucepan and pop the bowl over the top. Make sure the water isn't touching the bottom of the bowl- if you have too much, simply pour a little out.

Place over a low-medium heat and bring the water to a gentle simmer- your chocolate should start to melt. Stir it frequently, until all your chocolate is melted.

While a helper is melting the chocolate, pop your hazelnuts into a blender and whiz until they form a paste- this should take a few minutes. Make sure your blender doesn't overheat!

Add your cocoa powder, vanilla extract, oil, salt, a tablespoon of powdered sugar and your melted chocolate. Pop in the blender and blend until well combined and smooth.

Pour into a jar and leave to cool. Store in the cupboard for up to two weeks and enjoy!
If you've enjoyed this recipe and are keen to bring more foraged food to your kitchen table, pick up a copy of our newest book: Hedgerow Festival.
Click Here to sign up for our newsletter, and have more food investigations delivered straight to your inbox.