The cherry tree is perhaps best recognised as an icon of spring- it's lightly pink or white blossoms arriving around easter, marking the festival of rebirth and new beginnings. It has become a global favourite, with people the world over waiting with bated breath for the jaw-droppingly beautiful explosion of blossom.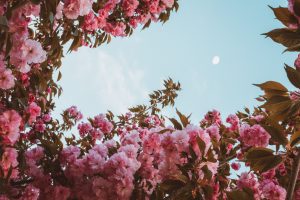 As many beautiful blossom trees do, the generous nature of the cherry lasts beyond the first blooming of the flowers. The flowers may quickly fade and fall, but when autumn comes, you'll sometimes find gleaming red cherries hanging down from the branches.
These trees are thought to have originated from Central Asia, and gradually migrated westward. You can imagine the ease of this transition- travelling peoples and far flying birds filling their boots with the delicious fruits as they migrated across the continent. By the Bronze Age, they had sunk their roots down on British soil- we know this as the remnants of their pips have been found in settlements across the country.
As such, our journey into the folklore of this family of trees shall take us first through the traditions of Japan, before exploring the stories and legends of the countries a little closer to home.
Perhaps the most common association with the Cherry is Japan. Many make the pilgrimage to Japan for the cherry blossom festivals. Families, friends and lovers alike spread out their picnic blankets and hold Hanami parties, where they dine beneath the ethereal canopy of a thousand blossoms.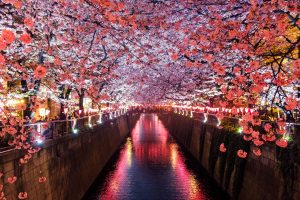 The flowers appear, bloom and fade quickly. The delicate blooms are vulnerable to the whims of the weather- April showers and spring winds will send the petals cascading down to carpet the floor. Their transient nature is echoed in their meaning in Japan's folklore. Sakura represents the impermanent nature of life. This was often closely associated with the Samurai, representing their often short but vibrant lives. Kamikaze pilots would often paint their planes with Sakura- taking the symbol of their short lived days into their final act of patriotism.
Our meander through the folklore of the Cherry next takes us westward to a cherry orchard Israel- the setting of a little known medieval english carol. The then heavily pregnant Mary asked Joseph to pick her some berries, to which he replied that whoever 'bought thee with child' would be a more suitable choice for the role.
Joseph and Mary walk'd
Through an orchard good,
Where was cherries and berries
So red as any blood.
O then bespoke Mary,
So meek and so mild,
'Pluck me one cherry, Joseph,
For I am with child.'
O then bespoke Joseph
With words so unkind,
'Let him pluck thee a cherry
That brought thee with child.'
School nativities seem to often skim over this scene- you never see Mary and Joseph, wilko tea towels atop their heads, stop mid procession to bicker. After all, the marital drama might steal the spotlight from Jesus' grand entrance.
It's completely understandable that Joseph would have had his doubts- I'm sure it wasn't the first or last illegitimate pregnancy to be passed off as an 'act of God'. As we know, Mary was telling the truth and hearing Joseph's contempt, Jesus intervened on behalf of his mother.
Then bow'd down the highest tree
Unto our Lady's hand:
Then she said, 'See, Joseph,
I have cherries at command!'
Having been touched by the hand of the good lord himself, the cherry is far from devilishly delicious- it's a heavenly treat. Unfortunately god doesn't make a habit of bending the boughs of cherries for foragers not carrying his child- perhaps take a ladder instead.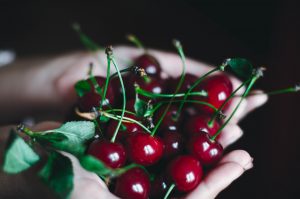 We conclude our world tour of cherry folklore in the United Kingdom, where the history of the cherry tree spans back thousands of years. In Scotland, Celtic communities were divided on the Cherry tree. Some prized it for it's beautiful grain and used it to create ceremonial drinking cups called 'quaichs'. They were used to welcome guests and celebrate traditions as vessels for sharing a dram of whisky. Over time, the wood would absorb some of the flavour of the whisky, contributing to the flavour of the drink.
In north east Scotland, however, the cherry was considered a witches' tree. It was considered unlucky to use the wood for any purpose, and forbidden to bring a branch into your home- lest you dare face the wrath of a vengeful witch.
A highland tradition states that a walking stick made from bird cherry wil prevent the user from getting lost in the mist. This made it a popular choice for those in rural communities, even those who know the land like the back of their hand may find themselves disoriented by rolling mist coming down from the hills.
A perhaps less charming feature of the UKs native cherry trees is the smell- not of the flowers, but of the bark. The brownish-grey bark has an acrid smell- not overpowering, but strong enough that in the middle ages it was planted at the door of many homes as it was believed to ward off the plague.
In Buckinghamshire, the Cherry tree is paired with the cuckoo. According to country legend, a cuckoo had to eat three meals of cherry before it could stop singing. It was also central to a nursery rhyme game played by local children. They would sing our to the cherry tree:
"Cuckoo, cherry tree,
Good bird tell me,
How many years before I die…"
The number of cuckoo calls heard in response was said to be the years the caller had left. Considering a cuckoo usually sings 6-10 'cuckoos' per call, I'm imagining there were a lot of children scared for their own mortality.
Today, the cherry is perhaps more prized for its blossoms than it's wood or fruit and ornamental cherry trees are certainly more common than the fruiting kind. An unfortunate truth is that not every cherry blossom tree fruits, however every cherry fruit tree blossoms. Good luck with that. The cherries iconic to Japan and Korea have been bred for beauty rather than fruit.
But we love the cherry for it's flavour, and look forward to the fruits just as much as the flowers. These gifts we can make last near infinitely- in sauces, jams and spirits. We'll be making our lip-smackingly delicious cheeky cherry BBQ Sauce this weekend with our members in the revolution- join our community now to get involved.
We hope you've enjoyed this whistle stop world tour of cherry folklore. If you'd like to learn more about the fascinating folklore surrounding our favourite forgeable food, sign up to our newsletter. We'll sprinkle your inbox with magical fairytales, mouth-watering recipes, early bird access to our events and no spam, ever.
If you're looking for a wonderful way to wave goodbye to the school holidays, why not sign up for our Hedgerow Festival? We've got 7 days of foraging fun, magical folklore and mouth-watering, kid-friendly recipes. It's the perfect way to end the summer- with family adventures and full bellies! Only £7 if you sign up before Monday 9th of August.