When it comes to flowers, there are few the brits love quite as much as the rose. Its beautiful blooms and breathtaking scent have enthralled the hearts of the nation for over half a millennia (since the Tudor Rose became our nation's emblem), despite the bite of its sharp thorns. This love is shown in their obvious popularity- you'll likely find them everywhere, from densely woven, wild hedgerows to prim and proper manicured parks.
Once the petals of this much-adored bloom have been unceremoniously whipped away by the incoming autumn winds, rosehips will begin to appear. These slowly grow and ripen, from green to orange and finally a deep crimson. By mid-September, you'll find your neighbourhood is studded with ruby red rosehips, ripe for the picking.
These hedgerow gems are filled with flavour. Their taste is distinctly fruity, described by some as a cross between an apple and tomato. This unique fruitiness is what makes our Rosehip Sweet Chilli Sauce quite so delicious (you'll find the recipe below). But they don't just pack a punch when it comes to flavour. These humble hedgerow fruits have a great history indeed- they were instrumental in our allied victory in WW2. Can't quite believe it? Read on to find out how.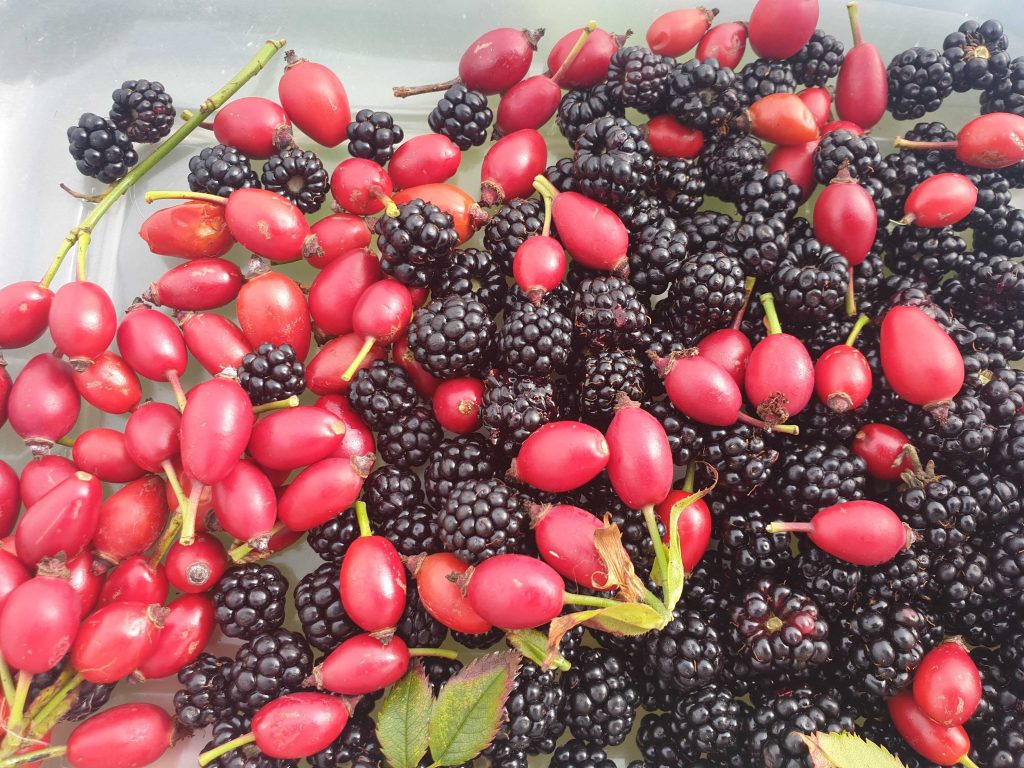 How did Rosehips help us win the war?
When the merchant navy found it increasingly perilous to navigate import routes, the availability of fresh fruits was dwindling. The government, eager to ensure the health of the nation and stave off scurvy, turned to the hedgerows.
Rosehips are 20 times as rich in vitamin C as oranges- a single spoonful of syrup will provide a child with 50% of their recommended daily allowance. Homegrown, readily available, and easy to preserve- they presented the ideal solution to the nutrition crisis the country was facing.
In September 1941, the government launched a national week for the collection of rosehips. School children, girl guides, boy scouts, and women's institute's picked up their bags, baskets, and buckets and set out to forage. These were collected for manufacture and each forager paid a thrupence per pound for their efforts (that's roughly 35 pence per 450 grams). By 1943 500 tonnes were collected annually- enough to create 2.5 million bottles of syrup and save the import of 25 million oranges per year.
This vital nutrition boost kept things strong on the home front. Even in the face of world war, communities kept the ball rolling, working tirelessly in their homes, fields and factories to 'do their bit' and help the allied forces succeed on the battlefield. Finding a homegrown solution to the citrus shortage reduced the pressure on the merchant Navy and allowed the nation to survive in good health when the Nazis eventually blockaded import routes.
This scheme was so well received that it was continued long past the end of the war. The project was taken over by 'Scott and Turner of Wallsend' (a Newcastle-based medicines company), who continued to utilize the networks of children, women and pensioners to harvest the fruits. These were collected from schools, town buildings and homes and shipped to the depot, where they were made into Delrosa rosehip syrup.
Many will remember taking their daily spoonful of rosehip syrup or perhaps even collecting the fruits. Maybe you'll remember seeing 'Rosehip Collectors Club' badges in the homes of your Grandparents- had they been prolific pickers in their youth.
So next time you fill your basket with these fantastical fruits, take a moment to appreciate their huge importance in days gone by. We're right in the middle of the rosehip harvest season, so there's no better time to bring this icon of England's history to your kitchen table.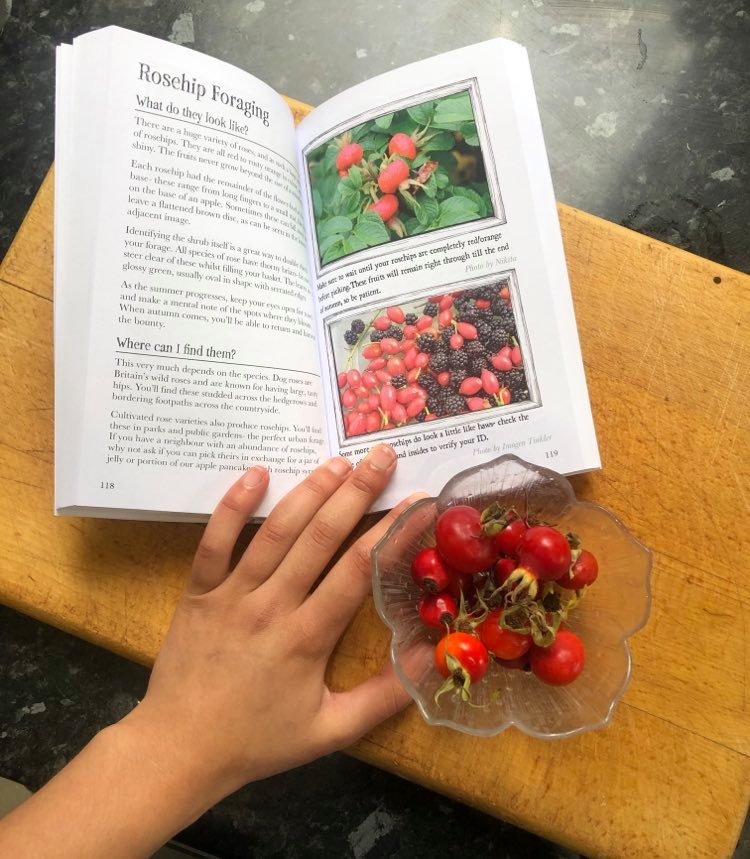 What can I make with Rosehips?
We're sharing our recipe for Rosehip Sweet Chilli Sauce as an excerpt from our latest top ten Bestseller: Hedgerow Festival. It's just one of many mouth-watering rosehip recipes you'll find between the covers, alongside all the info you'll need to head out and find these hedgerow heroes yourself. Pick up your copy here! 
What could be a better use for these hedgerow treasures than a tasty treat with a kick: our Japanese sweet chilli sauce. Japanese Rosehips bring a fruity juiciness that packs a punch when paired with fiery chilli. Or, if you've got a hankering for a sweet treat, take a look at our Spiced Crab Apple and Rosehip Cake.
Japanese Rosehip Sweet Chilli Sauce
This sweet chilli sauce is the perfect balance of sugar, spice, and all things nice. The fruitiness of the rosehips, paired with the aromatic spices and hot kick of chilli makes a devilishly divine dipping sauce.
Firstly, you'll need to remove the seeds and little hairs (aka itching powder) From the rosehips. To do this, simply top, tail and half each rosehip, and scrape out the hairs and seeds with a spoon.

Next to be deseeded are the chillies- well, depending on how spicy you like your sauce! Slice the chillies in half and scrape as many of the seeds out as you see fit.

Chuck the de-seed rosehips, deseeded chillies and ginger into a blender, and wizz until a chunky 'paste' forms.

Scrape the blend into a large saucepan and add your vinegar, sugar, water and spices.

Simmer for fifteen or so minutes, until it becomes thick- if you scrape the spoon across the base of the pan it should 'part like the red sea'- leaving a clear trail that takes a little while to refill with sauce.

Once you're satisfied with the consistency, pour into sterilized jars and store in a cool, dark place.