Halloween is the second-largest holiday in the UK, with tens of millions of Brits donning a costume and getting spooky. For kids young and old, it can be a highlight of the year- who doesn't love free sweets and fancy dress!
But, as with any large scale celebration, there can be a cost. For the planet, our celebrations mean tens of thousands of pounds of food and plastic waste each year. The scary truth is that the ghosts of your Halloweens past are still probably decomposing at the local rubbish dump.
But there's no reason these spooky statistics need stop the good times rolling this Halloween. There are easy, affordable and creative steps you can take to make your festivities this Halloween both exciting and eco-friendly.
To help you all have a spook-tacularly sustainable Halloween this October, we've put together our Ten Top Tips to keep your Halloween green.
1. Cut the Plastic from your Costume
The plastic content of our Halloween costumes is a holiday horror- and it's not just bad for the planet, it's not safe for your kids.
According to a recent survey by the fairyland trust, your average high-street Halloween costume is made up of 83% plastic (polyester was the most common plastic found). The study also revealed this bone-chilling statistic: "UK Halloween celebrations generate over 2,000 tonnes of plastic waste from clothing and costumes alone"- that's the equivalent of 83 million Coca-Cola Bottles.
Not only is this unsustainable- it's a fire hazard- especially when you consider the number of candle-lit pumpkins your little one will walk past this spooky season. A truly chilling thought.
So instead of picking up a not so fantastic plastic costume, keep an eye out for natural fibres like cotton. If you're struggling to find a plastic-free costume, why not make your own? Skip to halloween hack #3 if you're in need of a little inspo.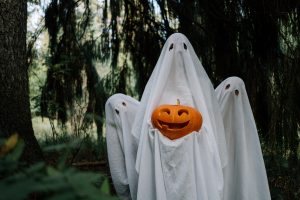 2. Buy second hand
Say no to fast fashion this halloween and buy your family halloween costumes second hand.
Tens of millions of brits get spooky each halloween by putting on a costume. This tradition was created by the Celts, who would dress up as ghouls and ghosties on October 31st to blend in with the spirits that would walk the streets whilst the veil between realms was thin.
Nowadays, we dress up to have some fun and convince strangers to give us lots of sweets. But there's no reason our good times need to cost our bank balances, or the planet.
Around this time of year, charity shops start filling their rails with second-hand Halloween costumes. So instead of grabbing one straight off the rail at your local supermarket or party shop, why not head to a charity shop and get your costume second hand.
Buying second hand reduces demand for sweatshop made costumes and makes sure that the carbon and energy that goes into their creation is more worthwhile by extending the products life. Not only are these costumes often cheaper, buying from a charity shop also means that your hard-earned pounds will go to a good cause. It's a no brainer!
Remember to donate your costumes once the kids grow out of them, so they can bring joy to little spooks in years to come!
3. Get Crafty with your Costume
If the costume supply at your local charity shops has run a little dry, why not get crafty and make your own? With a little time and creativity, even the most boring plain-old-top can be transformed into something fang-tastically spooky. It can also be a great opportunity for some crafty fun with the kids.
This is a great way to tackle the plastic content of your costumes and avoid buying first hand. It also gives you complete freedom to create the character of your dreams (or nightmares!).
If you're stuck for ideas, take a look at this great blog. It's filled with great, easy ideas to get you looking spook-tacular this halloween.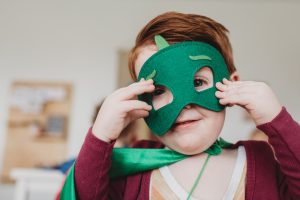 4. Don't let Plastics Spoil Your Sweet Stash
When I think back to my years trick or treating, I always remember the magic moment my friends and I would pour out our pillowcases onto the kitchen table. Hundreds upon hundreds (or at least that's how it seemed!) of glistening sweets would tumble out, ready to be scoffed.
What I wasn't thinking about during my halloween sugar haze was the amount of plastic that would end up in the bin.
Plastic is the guest you don't want at your halloween party. It will often refuse to recycle, is a frequent local litterer and will stick around for decades after the party's over. So let's kick him off the invite list!
The supermarket shelves might be packed with plastic-wrapped sweets, but you can make a difference this halloween by steering clear. It's easier than you might think, and affordable too. Replace the plastic-wrapped goodies in your sweet stash with:
Foil-wrapped chocolates

(like chocolate pumpkins, gold coins and Hersheys kisses)
To recycle these, scrunch them together and pop them in the recycling when you have a ball the size of a tennis ball.
Sweets in cardboard boxes

e.g. smarties, nerds, pocky and candy sticks.
Sweets in Paper Packaging
Buy in bulk

Steer clear of individually packaged sweets and pick up a box of family favourites (like these jelly snakes) in a recyclable box. Use a pair of tongs to give one or two to each trick or treater, or pop them in little paper bags.
Make your own sweets

We'll be teaching little monsters across the globe to make tantalisingly tasty quick and easy treats at our Halloween Festival. Sign up today to get you and your family involved!
Removing non-recyclable plastic from your trick or treaters treasure trove is a great way to reduce your impact this halloween. The memories will last for years to come, but the rubbish won't.
5. Be picky with your pumpkin
Shopping for local, seasonal food is a great way to cut the carbon cost of your halloween this year. And where better to start than with the star of the show: the pumpkin.
We love supporting local farmers. It's a great way to keep money circulating within your community, make connections in your area and support smaller businesses. It can also dramatically cut the carbon cost of your food shop. Out of season fruit and veg will often fly halfway across the world before it reaches your plate.
Pumpkins are a seasonal, British crop, so the private jet probably isn't necessary. But there are still the social and economic benefits of supporting a local farmer. Here in Kent, we love supporting our friends at Jack's Veg.
So when it comes to choosing your pumpkin, be picky and buy local.
6. Grow your own Pumpkin
Ok, it might be a little late for this one this year, but growing next years pumpkin from seed as a family is a great way to teach kids about the planet they're trying to protect. Best of all, when the time finally comes to carve and eat your pumpkins, it really will be so much more special than store-bought.
This eco-hack might not cut huge amounts of carbon, but connecting with nature is a great way to remind ourselves why we're making these changes to protect the planet. Growing something from seed is a great way to improve your family with nature and teach kids responsibility.
To get a start on this green-fingered halloween project, save some of your pumpkin seeds. Once you've fished them out of your pumpkin, give them a good rinse under the cold tap and dry them out on a tea towel. Pop the dried seeds in an envelope and store them somewhere cool and dry. Plant out the seeds in May to grow your perfect pumpkin ready for next Halloween.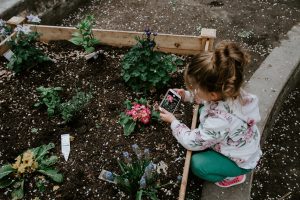 7. Don't waste your pumpkin insides
In the UK food waste is a real problem, with every family of four throwing away a staggering average of £58.30 worth of food per month. When it comes to pumpkins, the statistics are just as shocking. Despite pumpkin slides being both delicious and nutritious, 65% of people throw them straight in the bin. This adds up quickly, with an average of 18,000 tonnes of pumpkin being thrown every year. That's equal in weight to over 18,000 Hippos!
An easy way we can start our journey to tackling our families food waste is with our Pumpkins. We've launched our 'Eat My Guts' Campaign, to inspire you to get creative in the kitchen with your pumpkin insides. It's a small, simple step toward solving a big problem. And when the reward is a yummy pumpkin treat, It's a no-brainer!
We'll be sharing our favourite Pumpkin recipes with our community of little monsters in our Upcoming Virtual Halloween Festival. From homemade pumpkin spice syrup to pumpkin bread, there'll be a recipe for every pumpkin, great and small. It's a Half Term Spooktacular, guaranteed to lure your little monsters away from the screen and get them adventuring in the great outdoors. Sign up today!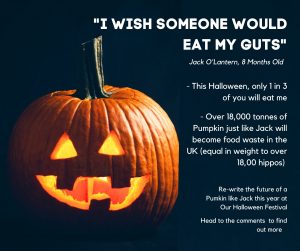 8. Biodegradable party decor
Are you hosting a halloween party this year? Don't let the price of this stack up- on your wallet or the planet.
When decorating your haunted house, it can be tempting to fill your trolley with the finest plastic-fantastic decorations your local supermarket or party stuff has to offer. However, these often single-use party decorations can quickly become waste- chucked in the bin after one use and left to decorate the rubbish dump for centuries to come.
So, steer clear of party-pooper plastics and keep your monster mansion green this halloween. Get crafty with your halloween decorations (check out these great ideas) and make ravishing recyclable decor.
Alternatively, head to the charity shop, local car-boot sale or peruse online marketplaces for pre-loved pieces to give your home halloween chic. Be sure to donate the pieces when you're done, or keep them back for next year!
Making these simple changes to your halloween extravaganza will make sure your party will be one your guests will remember, but the planet won't.
9. Your Neighborhood Needs You!
When it comes to trick or treating, it can be tempting to hop in the car and head to the 'best' side of town- wherever has the most dazzling decorations or is gives out the best sweets. But when you consider the community impact, the evidence is clear. Staying in your locale is the clear winner!
Trick or treating isn't just about sweets and chocolates- it's a way to get to know your neighbours and a really easy way to strengthen your community.
In the UK, 1 in 10 people don't know a single neighbour by name. This figure gets higher when you look at urban areas or neighbourhoods with a high proportion of renters. This can lead to isolation, loneliness and discontent.
Trick or treating is the perfect way to engage with the people in your community. It's as easy as a couple of words or a smile at the door- before you know it you're saying hello in the street and building real relationships.
And the result? According to a study by Aviva, the benefits by far outweigh the potential cut to your sweet stash. 76% of UK residents feel safer in their homes if they know their neighbours. 67% of people who took the time to get to know their neighbours felt happier as a result.
So this Halloween, be sure to take your little spooks around your local area and say hello to the neighbours. Before you know it, the streets could start to feel happier and safer- and not just because the little ghosts have gone home!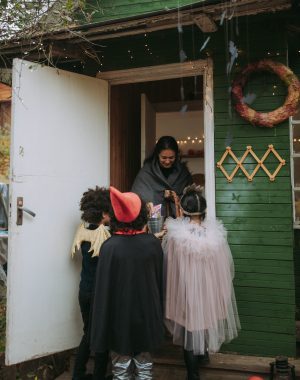 10. Take Part in our Halloween Festival
For the ultimate guide for crafting the ultimate halloween celebration, join us this half term at our Halloween Festival. Over two weeks, we'll be crafting a seasonal spooktacular step by step, using the finest seasonal, sustainable, hand-foraged ingredients.
There'll be tons of tips on creating a sustainable celebration- from table setting for a terror-riffic feast to decor that doesn't decorate the dump when you're done. We'll be showing you how to make trick or treat sweets that are so yummy, spooks will be haunting your doorstep for seconds!
To find out more, and book your place today, click here. We can't wait to see you in there!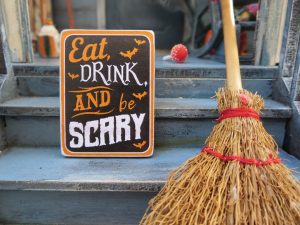 Sign up to our newsletter for more magical blogs like this one delivered straight to your inbox.