Many consider sprouts to be the Marmite of seasonal delicacies- you either love them or hate them. 
Well, it's tough at the top. You won't get there without collecting a few haters.
We couldn't love sprouts more. Not only are they delicious, but they're also filled with nutrients to get you through the winter months. Within their leafy layers, you'll find Vitamins C and K which will help boost your body through winter.
The trick to turning these wintery winners into divine delicacies is a little creativity. You can enjoy them roasted, fried or even swirled into soup. Our new favourite way to cook these wonderful veggies is to smash them! 
By parboiling, breadcrumbing and roasting, you create mouthwatering morsels that almost melt in the middle. Combined with our Spicy Miso Mayo (or a cranberry sauce if you're serving these at Christmas), it's a dream come true. We guarantee they'll quickly become a firm family favourite.
So get creative with this allotment icon and give our smashed sprout recipe a go. For more mouthwatering recipes to help you make the most of seasonal veg, click here to sign up to our mailing list.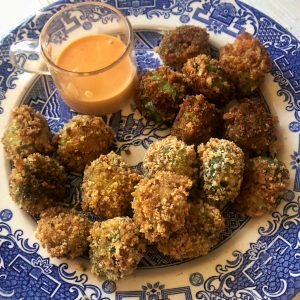 Vegan Smashed Sprout Poppers with Spicy Miso Mayo
For the Smashed Sprout Poppers
Pop your sprouts in a pan of boiling water to cook through- this should take roughly 8-10 minutes.

Whilst the sprouts cook, make your miso mayo. Simply mix your mayo, miso and hot sauce together in a small bowl or ramekin, adjusting the measurements to taste.

Strain your sprouts and leave to steam a little to dry.

Pour your sprouts out onto a chopping board.

Grab a glass and use it to gently smush each individual sprout.

In a small bowl, mix your dash of milk with your flour and pinch of salt until you have a gloupy mix, a little thicker than pancake batter. Place next to your bowl of breadcrumbs.

To crumb your smashed sprouts, firstly swirl in your batter, then transfer to the crumb bowl and toss to coat. Be warned, this can get a little messy! Place on a prepared baking tray and drizzle with a good glug of oil.

Place in the oven for 30-40 minutes, turning at halfway. Alternatively, fry until warm and golden brown in colour.

Pile high on a plate and serve warm with a ramekin of your spicy miso mayo.
For more mouthwatering recipes to help you make the most of seasonal veg, click here to sign up to our mailing list.