'I wandered lonely as a cloud

That floats on high o'er vales and hills,

When all at once I saw a crowd,

A host, of golden daffodils;

Beside the lake, beneath the trees,

Fluttering and dancing in the breeze.'

I Wandered Lonely as a Cloud, by William Wordsworth
There's that Spring feeling
There's just something about Spring.
The whole world seems to leap into celebration. Poets skip gaily through fields of flowers and each and every bird bursts into song.
It's a true joy to see the bowed heads of snowdrops appear across the garden, each little bunch a celebration of spring. Purple crocuses have begun to punctuate the lawn, petals peeling back to expose their golden cores.
Daffodils have returned to the flower markets. I scoop them up wherever I see them and fill vases throughout the house. To me, they've always felt like sunshine in flower form.
Plants great and small have dressed for the occasion. The pale pink cherry blossoms have exploded into blossom on my street and the bees have begun to lazily buzz across the blooms. Candle-stick magnolia buds are emerging, ready to burst into flower and the hazel has adorned its branches with a festival of yellow catkins.
The sun lingers a little longer in the sky- waiting to watch the flowers bloom and welcome the bees back into the world. Each day that passes gets a little longer, and a little warmer. Soon my summer dresses with be recalled from retirement- I just can't wait.
It feels like the world has begun to wake up.
It feels like I have begun to wake up.
It's the perfect time to get outside. As we explored last mental health week, simply heading out for a wander can give a real boost to your mental and physical health, in more ways than you might expect. It can even boost your creativity- no wonder William Wordsworth was such a prolific poet!
It's a great time to get your kids inspired by nature and share in their childlike wonder at the natural world. Why not head out to do some flower spotting? Take a sketchbook out to do some bark rubbing, or collect some fresh green leaves to make a forest face. Be sure to keep your ears pricked for buzzing bees and birdsong- you can use this app to help identify the birds you hear.
This week in the Kitchen Table Revolution, we're working with one of my favourite blooms of spring: Three-Cornered Leek. Its bowed white flowers look a little like a bluebell and its leaves carry the same, garlicky scent as wild garlic. It's a blessing to the garden and the kitchen. If you are a bit stuck with where to get started or want a community to keep you accountable and inspire you every week - come and join us!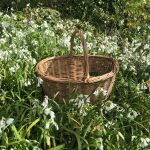 We have a little coming through in my parents garden. Some gardeners despise the stuff- it spreads easily and usually refuses to leave. But for us it's a gift- the deer that wander through, decimating all available tasty shoots in their path- don't touch the stuff. While I may love the flavour, they definitely don't.
With these Three-Cornered Leek Cheese Scones, we can guarantee that Bambi won't be looking to pinch your picnic. Their the perfect treat to pop into your pocket for a fresh spring wander, or to share with friends over a cup of tea.
They're deliciously moreish and so easy to make. Get creative and adapt the recipe with your favourite cheese. Vegan, simply substitute nutritional yeast (or a plant-based cheese), vegan butter and plant-based milk.
Want more sensational seasonal and foraged recipes? Sign up to our mailing list to have them delivered straight to your inbox.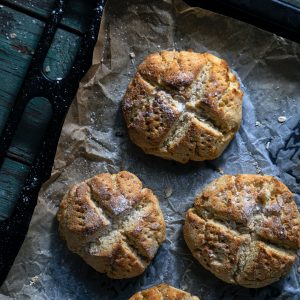 Cheesy Three-Cornered Leek Scones
With these Wild Garlic Cheese Scones, we can guarantee that Bambi won't be looking to pinch your picnic. Their the perfect treat to pop into your pocket for a fresh spring wander, or to share with friends over a cup of tea. 
225

g

self-raising flour, plus extra for dusting

pinch of salt

pinch of mustard powder

1

tsp

baking powder

55

g

chilled butter, cubed

150

g

your favourite cheese

A small handful

Three Cornered Leeks, Finely Chopped

90-100

ml

milk, plus 1 tbsp for glazing
Preheat your oven to 180C.

Pour your try ingredients into a bowl and stir to combine.

Add your cubed butter. Pinch and rub with your fingertips to form crumbs.

Sprinkle in your cheese and chopped three-cornered leek and stir to combine.

Make a little well in the middle and pour in your milk, a little at a time, mixing regularly. You might not need to use all the milk to get a smooth dough, so don't pour it all in at once.

Lightly flour a surface and roll out your dough- you want it to be about 2cm thick. Use a cutter to cut out rounds, score a cross on the top and place on a lined baking tray.

Brush a little milk over the top of each scone to glaze. You can also sprinkle a little cheese over the top if you'd like.

Bake for 15-20 minutes, until golden brown and cooked through.