A berry-laden blackberry bush is an iconic symbol of the end of summertime. It seems to soften the blow of autumn's ceaseless approach- a sweet treat gifted in commiseration for the return of dark, cold days.
A single bush will attract a whole village- suited commuters, sullen teens and sprightly children all stopping a moment to pop a shining black berry into their mouths. Each and every British man, woman and child (and all those in between) seems drawn to the hedgerows like a moth to a flame, equalized by the desire to scoff on berries till their lips stain purple.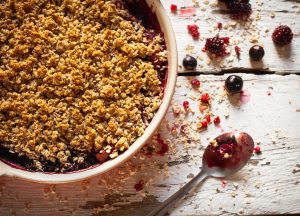 I always remember collecting them from the hedgerows on the way home from school. My primary school was surrounded by a patchwork of fields, interconnected by a web of footpaths and winding country lanes. Occasionally after school, my mum and I would wander out to fill a punnet from the hedgerows, taking the berries home and baking apple and blackberry crumble, which we'd serve with a scoop of vanilla ice cream from the local dairy. Heaven on a plate.
Not everyone's formative blackberry memories are quite so sweet. When a friend of mine was younger, he would collect blackberries from the graveyard down the road. As delicious as they were, he would often wonder if the cakes and crumbles had been cursed by the spirits left lingering in the churchyard.
It would seem that perhaps his view of the blackberry is more accurate. Throughout folklore from across the globe, the blackberry is considered to be a cursed fruit.
It's easy to see how this has come about. The blackberry may bear delicious fruit a few months a year, and provide a little sustenance for the bees, but most of the year all it gives us are snags in our skirts and scratches on our legs.
The most sinister of its associations are with the Devil himself. A Christian tale tells us that when Archangel Michael cast Lucifer down from heaven, he landed squarely in a bed of blackberry thorns. Clearly exile wasn't punishment enough.
Enraged by the pain of the thorns, Lucifer spat on the bush, cursing the berries, the rich sweetness of the fruit turning bitter and thin. The Devil certainly knows how to hold a grudge, as on the anniversary of his fall each year you'll still find that the blackberries have turned, almost overnight. For country folk these berries were now cursed, and best not be eaten.
Beelzebub may consider this a cursed day, but for Christians (and presumably the angels too) it has become a day of celebration: Michaelmas. Originally this date fell on the 29th of October, but has since moved to September 29th. Traditionally it served as a marker of the turning of the seasons, and was celebrated with a huge harvest feast.
As so often can happen, this story is seeded with truth- as bright summer fades to mellow autumn, the deliciousness of the blackberry also passes.
At this point of the year, flies have often laid their eggs on the fruits. As the grubs grow they munch on the berries, consuming the sugars and weakening their flavour. So perhaps Michaelmas is a useful marker, reminding us that it's time to turn the berries over to the birds and bugs to let them feast.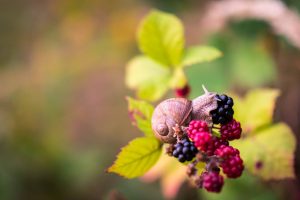 A more peculiar tale concerns their ability to protect against vampires. It would seem that vampires have a very unexpected weakness- Blackberries. Even when gripped with bloodlust, a vampire can be captivated by a blackberry bush- drawn by some inconceivable power into a new obsession.
According to folklore, a vampire cannot move past a blackberry without first counting each berry, branch and thorn on the bush. As you can imagine, this can take a while- before you know it the sun is rising, and the blood-sucker is forced to retreat.
For those of us with thorny bushes in our gardens, it's good news. They're notoriously difficult to remove, so this knowledge might just save you an afternoon in the garden and a multitude of scars. When you pair it's vampire snagging properties with it's potential to create delicious treats, keeping a blackberry bush seems the obvious choice.
Should you collect some blackberries before Michaelmas, and manage to make it home with a full punnet, we have a myriad of delicious recipes even the devil wouldn't turn down. We've shared them all with you in the second pocket guide in our Foraging Fairytale Series; Hedgerow Festival. Pick up a copy today for mouthwatering recipes, practical foraging advice, and more fantastical folklore.
We love unpacking the folklore surrounding our favorite forages. If you'd like more of these fantastical fairytales delivered straight to your inbox, sign up to our mailing list. You'll receive fascinating folklore and early-bird access to our latest events.