Do you want to forage seaweed but aren't quite sure where to start?
Well, eager forager, fear not. We've pooled our wisdom to create a handy guide that will get you started on your seaweed
adventure. In this guide we'll teach you how to harvest seaweed safely, sustainably and how to identify the tastiest species! The best part is that it will only cost you £3.37!
We know a thing or two about seaweed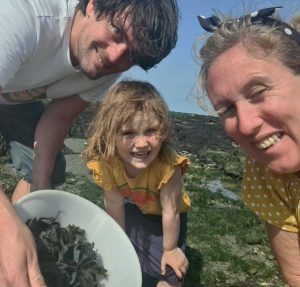 Duncan and I have been foraging for years and it's one of our favourite things to do as a family. Not only is it enjoyable and a great way to spend your time but you also end up with lots of nutritious and delicious seaweed! Prepare yourselves as you'll soon be experiencing the essence of deliciousness - Umami.
Why forage seaweed?
It is incredibly good for you and offers many benefits. Not only that but there's an abundance of it! Your world will change once you realise just how much seaweed is out there waiting to be foraged.
It's very unlikely you'll die!
Though it may seem like an advanced forage, harvesting seaweed is relatively risk free. In the UK, there is only one poisonous seaweed and you're not likely to find it - it hides in the depths of the channel so you're unlikely to find it on foot. I've been known to cover some
serious ground on my hunt for wild food, but diving down to the bottom of the ocean would be a bit of a stretch - even for me.
Foraging Top Tip
Keep an eye on the tide as there will be more accessible seaweed when the tide is out. We'll explain more in the guide, it also includes the best places to find the best seaweed!
Emma - "I love it. A lovely, easy flowing read. It has definitely given me some inspiration to pick some for the kitchen!"
Chrissy - "Thank you! I will definitely be using this, it's very helpful!"
Buy your own Mini Seaweed Foraging Guide for only £3.37 before it disappears from our our Mini Guide shelf!
(If you loved this then you'll love our Elderflower Festival, Wild Garlic Festival and Hedgerow Festival books)