Love Marmalade and want to do more with it than just have it on toast?
We have 13 marvellous recipes for you to download today and make in your kitchen at home. For only £3, less than a pot of tea you can get your hands on our innovative recipes from our Preserves like Marmalade Hot Sauce invented this year by the award nominated Duncan Tinkler to cocktails like Mar Mosa by the Amazing Alicia to Sweet and Sticky Marmalade Duck by Josh.
Imogen brings her Earl Grey and Marmalade Bread and Butter Pudding - it will take you back to childhood and have you licking your lips! Doing Veganary? No fear the Amazing Alicia has adapted them all for you!
We promise there is no complicated cooking jargon, it is stripped straight back and you will love making them! You can use shop made marmalade but of course we encourage you to use your own creations. We are making it in the Kitchen Table Revolution this weekend and can't wait.
We know a thing or two about marmalade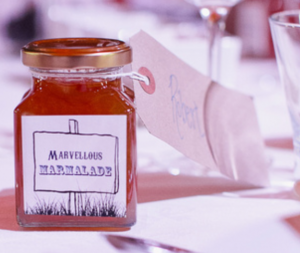 We love it so much that we had it as our wedding favours in 2013. It was no mean feat to make a jar for every single person from our tiny kitchen - well we had a little help! From our families which made it all the more special. It is marmlade making weekend this week in the Kitchen Table Revolution this weekend and we can't wait!
Do you know where Marmalade comes from?
There are lots of legends but our favourite is about Keiller Dundee Marmalade. In the mid 18th century a Spanish ship carrying Seville oranges was damaged by a storm. It seeked refuge in the Port of Dundee. The oranges weren't very popular when offered for sale as they were so bitter. However one merchant called James Keiller bought them and his mother made the iconic marmalade. In 1797 he founded the world's first marmalade factory producing the world's first commercial brand of marmalade. You can still find it in production today.
Marmalade Top Tip
Keep an eye out for the older jars - you can still find them at a local boot sales. Do let us know if you spot one - we would 🧡 one!
Download your Mini Marmalade Cookbook Today
Now Download your very own  Mini Marmalade Cookbook before it disappears of our seasonal mini guide shelf!