We are Banger & Balls, a UK food brand who cooks with seasonal and foraged ingredients. Thousands have followed and cooked our quick and easy seasonal recipes celebrating UK produce.
People love it so much that we have been featured in The Sun, The Daily Mail, Newsweek, The I and The Metro and interviewed by the BBC and ITV as well as many more! We know it's important for you to connect with your farm shop customers but producing seasonal recipes can be time consuming.
Let us do it for you. We offer unique and delicious recipes that are in tune with the seasons. They are quick and easy to read as recipe cards and we can provide them in the format that is right for you for your websites and emails.
We are currently running an introductory offer where you can choose up to five recipes per month to share with your customers for only £10.We know it works, we have done this with other farm shops who have seen increased customer engagement and retention.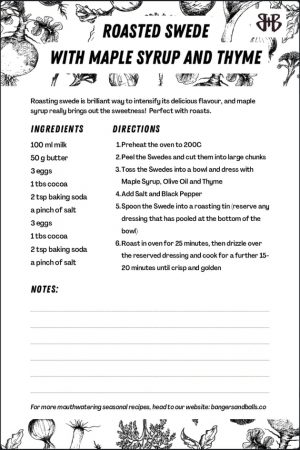 Customers look forward to their new quick and easy recipe and doing something new with the produce they buy, which keeps them coming back for more." I run my own farm shop and wear about 20 different hats! I simply don't have time to do everything.  Having new recipes to send out in my emails every month increased open rates and in turn my conversions for sales. All while not having to spend time I don't have writing the recipe. It has been brilliant for us!
As an added bonus we will also feature your farm shop on our social media and include you on our website with a direct link to you. You will also have the chance to be interviewed on our Kitchen Table Radio Show.
Sign up today. This offer runs until the 1st of February 2022.