Rupert The Bear's Idyllic Summer Supper Club Adventure
Come with us on a magical adventure to the idyllic countryside village of Nutwood, a stones throw from where the brave little bear was born in the Garden of England.
We can't believe we are about to share this little bit of paradise with you. You will enter through a tucked away door and stumble into a secret world in the heart of Faversham.
Say hello to the rescue chickens, look for a chorus of frogs and smell the beautiful flowers as you search for your canapes.
It is truely a special place. We can't wait to welcome you to the Abbey Physic Garden this weekend and share this piece of paradise.
You will be welcomed with a secret seasonal, hand foraged cocktail (or mocktail), armed with your drink you will follow the clues to help Rupert and his friends solve their exciting mystery.
You will need to question the Wise Old Goat to unlock the secret and find your canape hiding in the trees. Wander back through the beautiful gardens and let your foodie adventure begin.

Credit Rupa Day
You will be bewitched by three courses of local, seasonal delights. Everything you taste will have been raised on locally- from organic vegetables to hand reared meat. Feel like a child again as you unwrap your magical picnic starter.
Show your taste buds the true meaning of delicious as you tuck into your fabulous main course and dazzle your senses with your truly scrumptious desert.
Tickets are on sale now!
Here is our Plant Based Menu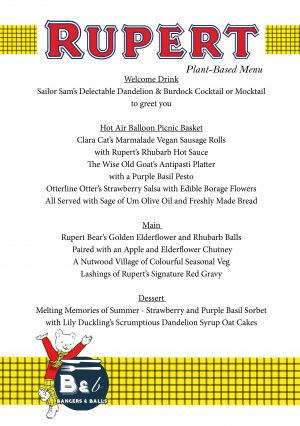 We have a very limited number of tickets for this event as we want to create an intimate gathering that is safe for all our wonderful diners.
Choose from our evening adult supper clubs, or bring the whole family to our day time events. Your children can be as free range as they like. You don't need to worry about your little ones sitting still. They are free to run and roam. Something that is hard to do in lockdown! OR leave the children at home and bring out your inner child!