What's A Dine at Home Supper Club?
We deliver three mouth wateringly Festive courses and a Festive Christmas tipple (you just need to add the booze) directly to your door between 7 - 8pm on
Friday 10th or Saturday 11th of December
Thursday 16th or Friday 17th  of December
Need it on another day to celebrate with family, friends or work colleagues in your own individual homes? Just email us here and Mrs. Christmas will get right on it.
We think these dining spots are going to fly out of the Christmas Ballroom quicker than Father Christmas with his reindeers on Christmas Eve.
Delivery - Whitstable, Canterbury, Faversham, Chesterfield, Blean, Seasalter. Not on the list? Just message Mrs. Christmas - she is always there to help and spread some festive cheer.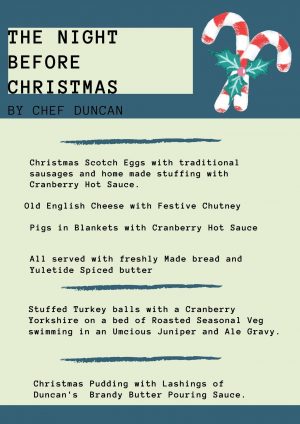 A Night Before Christmas.
Saint Nick's Christmas Stocking.
The stockings were hung by the chimney with care,
In hopes that St. Nicholas soon would be there;
A Christmas Hamper bursting with delights including our homemade Traditional Sausage and Stuffing Scotch Eggs with our famous Cranberry Hot Sauce, Old English Cheese with Festive Chutney and Fresh Bread with Yuletide Spiced Butter.
Main
Stuff your Turkey Balls down the Chimney.
And then, in a twinkling, I heard on the roof
The prancing and pawing of each little hoof.
As I drew in my head, and was turning around,
Down the chimney St. Nicholas came with a bound.
We use the finest meat from both the leg and breast of outdoor reared turkeys to make our mouthwatering Stuffed Turkey balls with a Cranberry Yorkshire on a bed of Roasted Seasonal Veg swimming in an Umcious Juniper and Ale Gravy.
Dessert.
He sprang to his sleigh, to his team gave a whistle,
And away they all flew like the down of a thistle.
But I heard him exclaim, ere he drove out of sight—
"Happy Christmas to all, and to all a good night!"
A generous portion of our own home made Christmas pudding, courtesy of the Foodie Revolution, covered in Lashings of Duncan's world renowned Brandy Butter Pouring Sauce.
£27.50 a head including delivery.