If I told you that the Italian Extra Virgin Olive Oil perched on your kitchen counter had probably come from the Mafia, you might look at me like I was crazy.
Crime lords swapping hard drugs for fine foods doesn't really seem that believable. Shootouts in shady olive groves, and dodgy deals behind dairies takes the glamour away from the gangsters we know from The Godfather and Scarface.
But what sounds like an unlikely tall tale is founded in fact- the Mafia have their greasy hands all over the olive oil trade.
In Italy, it's estimated that 50% of olive oils on supermarket shelves are unregulated fakes. Looking beyond Italy, this figure climbs, with studies concluding that around 69% of exported European olive oil isn't what it claims to be.
But, hang on. What exactly do the mafia have to do with it? What are we buying? Is it dangerous? How is it being stopped? How on earth do we buy the right thing?
Mama Mia, it's a mess.
What do the mafia have to do with it?
The Agromafia are a successful and very wealthy strain of the Italian gangster crime families we all know and definitely don't love. But these crime lords deal in the unexpected- steering clear of dealing drugs or weapons. Instead, placing themselves as purveyors of "top quality" food and drink. Always promising premium and rarely delivering- be it fine wines, gourmet cheeses or the star of today's show: Extra Virgin Olive Oil.
It's easy to see the appeal. Food presents a constant and reliable income stream (everybody's got to eat!), without the additional dangers associated with drugs or street crime.
Most of all, it's incredibly lucrative- the fake Extra Virgin Olive Oil market is worth a staggering $16 Billion Dollars a year. Mafia families working in agriculture and food can earn as much as three times more than those trafficking and selling cocaine. It's estimated that the Agromafia bring in a whopping 15% of all mafia income per year.
So what exactly are we buying?
Extra Virgin Olive Oil is Olive Oil that comes from the first press of olives and is free of any additives or diluents. It's the deeply flavoured, aromatic oil that is loved by nations all over the globe. The finest olive oils can sell for as much as $50 a gallon (8 Pints).
Fake Olive OIl couldn't be further from this definition. Sunflower, soy, rapeseed and canola are all common choices for the base. These oils are then deodorized and coloured using chlorophyll. In some cases, an additional oil is added to provide character- the aromatic flavour and rich colours we know and love.
Production costs for this concoction are low (around $7 a gallon) and selling prices are high, meaning that profit margins on this olive oil wannabe can be up to 3 times higher than that of cocaine.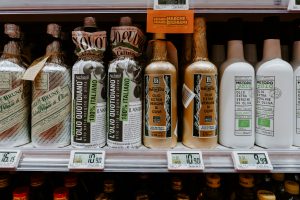 What are the dangers?
Within the olive oil trade, and the authorities attempting to regulate it there is a culture of fear and violence. Officials attempting to regulate it frequently receive death threats and assassination attempts. Farmers who refuse to comply with mafia can find themselves subject to violence and intimidation- with families finding their homes burned down and farms decimated.
Nicola Clemenza (a Sicilian olive farmer) has been victim to threats and attacks since he decided to trade directly with traders, rather than through the mafia. He described an attack in an interview with CBS:
'they burned my car, they burned down part of my home and I was inside with my wife and my daughter.'

Nicola Clemenza
The dangers extend to those of us at the other end of the supply chain. Buying oils of unknown nature, often blended with contaminants can result in serious allergy triggers. People with seed, nut or soy allergies are most at risk. Any fraudulent oil neatly stored in your larder, if given to the wrong person, is a ticking time bomb.
Operation Mama Mia
But the Italian authorities are doing their best to quell this illegal and immoral food fraud. Organizations such as the Anti-Mafia Investigative Directorate, Carabinieri (police force) and community lead movements such as Addiopizzo (an anti-racketeering group) are working on all levels to remove the mafia's influence over the food and agriculture sectors.
These forces are working with some success. In 2016, the authorities successfully completed operation 'Mama Mia'. You can't make this up.
The Italian authorities seized over 2000 tonnes of fake Extra Virgin Olive Oil from the region of Puglia, worth over 13 million euros. The Agromafia had imported and adulterated low quality Spanish and Greek olive oil and were planning to export it as primo Italian extra Virgin Oil.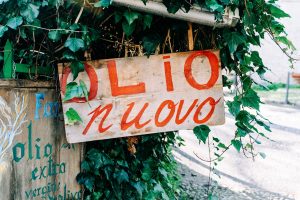 How can we make sure we're buying the real deal?
Until effective regulations are brought into place, there's very little you can do to ensure the olive oil in your basket is the real deal.
There is often a correlation between cost and authenticity- Extra Virgin Olive Oils retailing at lower prices are more likely to be fake. It is also advisable to steer clear of 'light' olive oils as these are both easier to fake and likely to be more refined.
There are an increasing number of certifications for olive oils, such as PDO (protected designation of origin) and PGI (protected geographical indication), which although don't entirely guarantee authenticity, are a good place to start.
Even big brands (such as Bertolli and Primadonna) have been caught up in the scandal- proving that when it comes to Olive Oil, there are very few household names you can really trust.
Fake Extra Virgin Olive Oils are incredibly hard to discern, as even those considered experts can be fooled. A recent study asked renowned foodies, Olive Oil importers and Deli owners to blind test a selection of Extra Virgin Olive Oils.
The outcome was humiliating- the importer branded his own, premium oil 'disgusting'; the deli owner favoured a suspicious, bargain Oil and the foodies collectively decided Bertolli's Extra Virgin (which as we know, has been caught up in the fake Olive Oil scandal) was the best on offer.
The only palate you can truly trust are those of Italy's 'official olive oil testers'- a team of highly skilled taste testers, whose verdict is admissible in a court of law. One word from them, and you're going down.
If possible, it is always best to shop with a local trusted supplier. Companies such as Nudo, or smaller importers like New Dawn Traders are your best chance at authenticity.
Currently, these steps are the strongest actions you can make towards ensuring authenticity (other than training as a tester yourself!). Until robust, effective regulations are bought in, all we can do is wait.
Want to learn more? Head over to our membership the Kitchen Table Revolution for our expert Elizabeth Davidsons talk on the wonders of Olive Oil.
Not a member yet? Our doors are open. Find out more and why our wonderful members rave about it. See you inside!